We are excited about developing this feature to help lawyers review documents faster and more accurately. Powered by convolutional neural networks, DISCO ML will recommend which tags should be applied to documents. While Tag Predictions is a helpful and powerful tool for lawyers, in particular, it allows lawyers to make smarter decisions by process of quality control.
Tag Predictions takes away the monotonous work from lawyers, freeing up their time for making legal decisions. This feature allows for more relevant documents to flow to the top of your review prioritization, filtering by one of the tags for which you have toggled on predictive learning. This enables you to QC not only your tagging work but also the tagging work already applied by others on your review team. Therefore, Tag Predictions floats concurrent documents to the top of you review based on the topics of your choice.
Tag Predictions requires ZERO setup, unlike other legacy e-discovery tools. While users are coding documents, the DISCO ML engine will be analyzing those coding decisions which will then create a "fingerprint" of the characteristics each document contains. From there, DISCO ML will serve tagging suggestions to the end-user. Because DISCO ML has been learning your tagging habits, this feature will suggest what tags to apply, as well as suggest what tags should NOT be applied. This architecture of predictive technologies is unique to DISCO!
Again, DISCO is very excited to release DISCO ML! We are always looking for ways to improve the document review process for legal professionals, making it faster and more intuitive. Tag Predictions allows lawyers more time for making important decisions, to run quality control on all reviewers' coding decisions, while in the meantime is learning your tagging habits. Document review prioritization is made more apparent and the capability to see tagging accuracy is now easier than ever.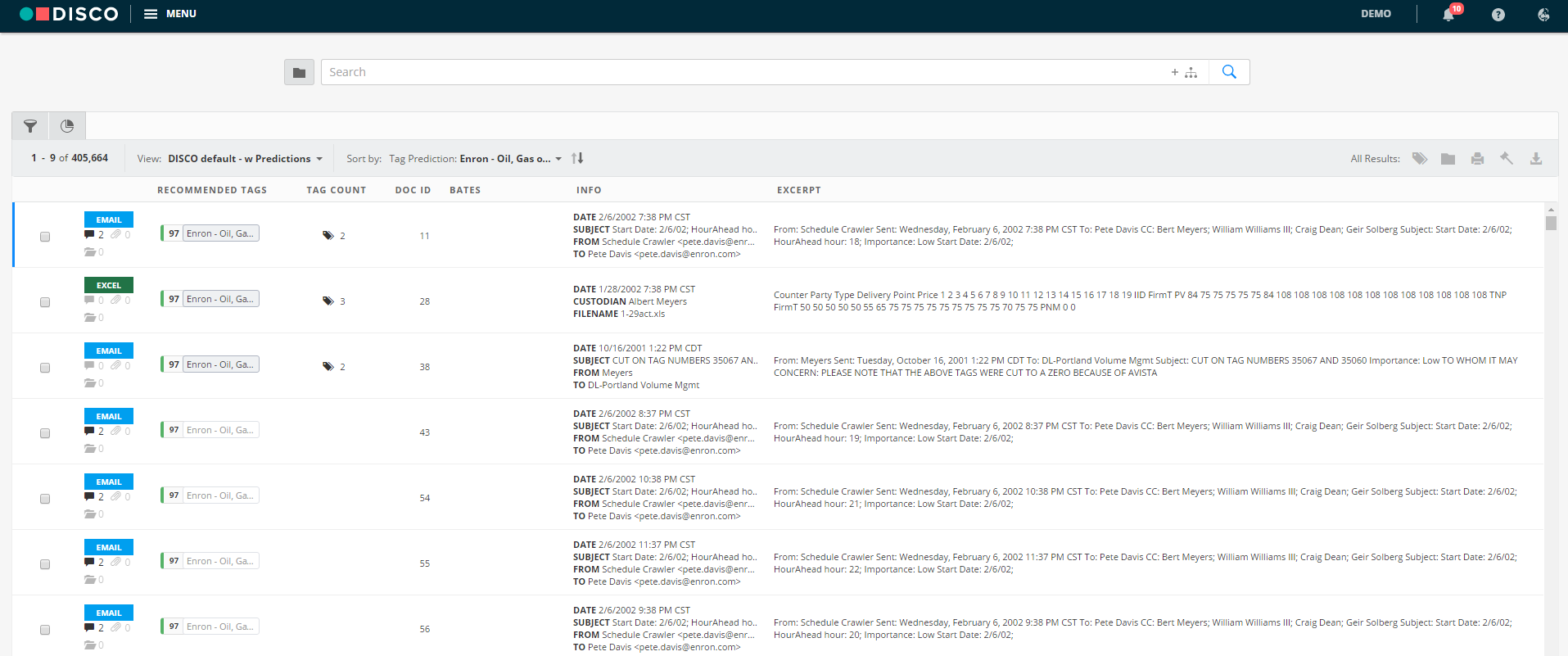 Tag Predictions is available to all new databases created on or after 02/27/2017. Read DISCO's Using AI tag predictions for a complete step-by-step walkthrough of setup. Please contact support@csdisco.com if you have additional questions.