DISCO has made enhancements to its conversation browser in the standard document viewer. Reviewers can now visualize and navigate through a conversation thread, understanding who replied to what and when. Threading allows attorneys to review a whole conversation, noting missing portions and making more informed decisions about their documents.
DISCO Review has now taken email threading technology to the next level with the introduction of inclusive email identification. Inclusive refers to emails that contain unique content NOT included in any other email from the same conversation. The ability to identify and review inclusive emails means attorneys eliminate documents that contain duplicative content and save on review time.
When a document is part of an email conversation, DISCO Review will display related emails in the conversation browser. Conversations are located in the left panel of the document viewer, under RELATED DOCUMENTS.

To navigate within an email thread, click Conversation. All parts of the conversation, including replies, forwards, and missing emails, are displayed.   

DISCO Review will further visually connect forwards and replies within the email thread using lines to the left of the emails.

Click Show/Hide Attachments to show or hide attachments within the thread.

Hover over a particular email within a thread to display additional metadata:
In addition to seeing the attachments within the thread, you can see links to attachments at the bottom of the conversation thread.

DISCO Review allows users to add or remove tags to individual emails, attachments, and full conversations, and limit tagging to inclusive emails. To open the DISCO Review conversation tagging tool, click the tag icon at the top of the email conversation.  
Use the checkboxes to the left of emails and attachments to select which documents you want to add or remove tags from. Quickly select a group of documents within the thread by clicking the dropdown arrow at the top of the thread.
In order to ensure that attorneys can review their documents in a logical and efficient manner, DISCO Review identifies inclusive emails. Again, inclusive emails contain unique content NOT found in other email messages within the thread.   
For example, let's say John and Tom have a back-and-forth email conversation in which they keep all the prior email messages within the body of their replies. The last email within this thread would be identified as inclusive because it would be the only email within the thread that had the last piece of the conversation. If, in the middle of this email conversation, Tom forwarded the email to Sally for review, that email would also be identified as inclusive because it would have information regarding the forwarding that would not be included in John and Tom's back-and-forth email messages.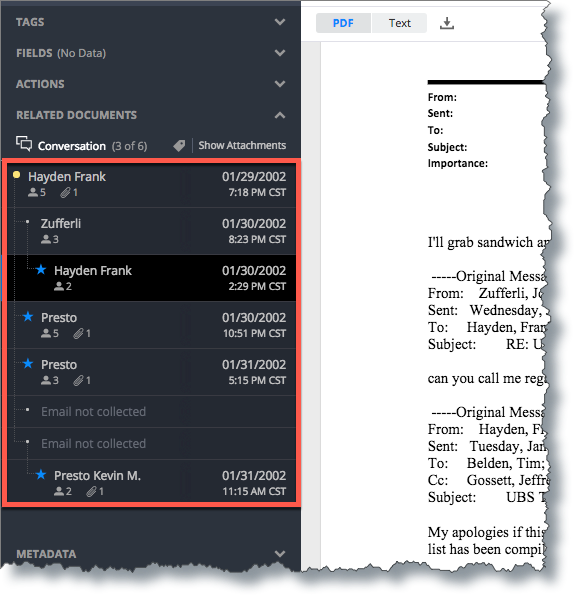 Inclusive emails are clearly indicated in the email conversation display with a blue star to the left of the email information.

In addition to being able to view conversations and inclusive emails within the document viewer, you can view conversation counts and identification of inclusive emails in DISCO Review's custom columns.

Conversations and inclusive emails can be used to create review stages. Turn on the Keep conversation together toggle to ensure that batches include complete conversations. Turn on the Inclusive emails and all attachments and their parents toggle to limit your batch to ONLY inclusive emails and any emails within the conversation that have attachments. DISCO Review's improved batching capabilities will expedite reviews by eliminating documents with duplicative content and increase efficiency by ensuring that conversation are batched together.

Finally, you can limit search results to show only the most inclusive emails. Open search filters and select Inclusive emails only under DOCUMENT PROPERTIES to limit your search. You can also use the search syntax IsInclusive(true) to narrow your search.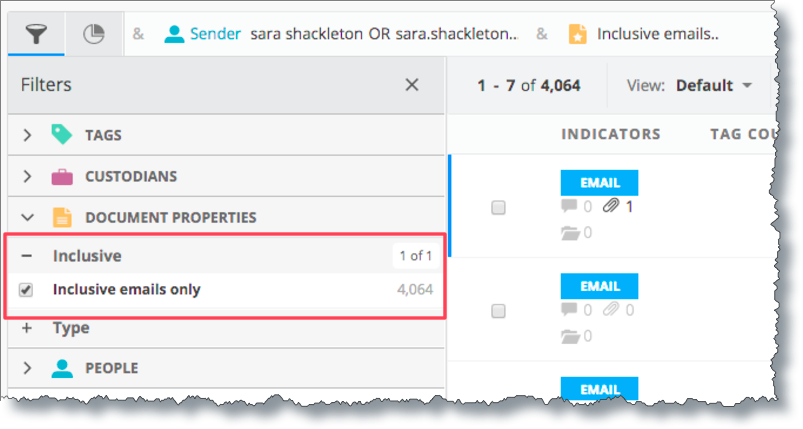 The conversation browser is available to all new databases created on or after January 10, 2017. The inclusive emails feature is available on all new databases created on or after June 13, 2017.