We have redesigned our Batch Print feature!  Now users can print both Bates and non-Bates stamped images in the same run, choose to print one or multiple Bates stamped versions of the same document and choose a priority order when printing across several Bates prefixes. Our improved design also provides users with more flexibility when selecting sort order, when choosing to include a coversheet and the ability to export natives for files types that are not well suited for imaging.
Batch Print takes a group of documents selected by you and generates a print-ready PDF (or PDFs) for export. As opposed to producing documents (read more on downloading productions), batch printing does not create new Bates stamped images but rather allows you to select from any image currently within DISCO.
Batch Print can help you:
Prepare documents for a deposition or filing of a motion

Print a few or several document for inter-office communications

Download document images for viewing outside of DISCO
Batch Print sets can be created by running any search using Search Filters, Search Visualization or Search Builder to create the required search syntax. By default DISCO will include all documents in your search results in the batch print export. Once you have run your search you will be able to access the Batch Print Icon found in the Results area at the top right of the List View.

In addition to running a search, users can select documents from the List View by using the checkboxes on the left side of each row. Select the documents you wish to print, the number of documents selected will appear in the Results area along with the ability to select the Batch Print Icon.

To access the Batch Print UI click on the Batch Print Icon  

VERSION
First, you will be given the opportunity to select which version or versions of the documents you wish to export. You can select from the following options:
Original - near native image

Original Stamped with DISCO ID

Bates Prefix - any Bates stamped prefixes that exist in DISCO
With each selection, DISCO will provide the number of documents within your results that meet that criteria. You can continue to select versions until all documents are accounted for. For documents stamped with multiple Bates prefixes, DISCO will export out the highest ranking prefix version. If documents have multiple Bates stamps of the same prefix, you can choose to export out the lowest Bates number, highest Bates number or all Bates numbered versions of that prefix.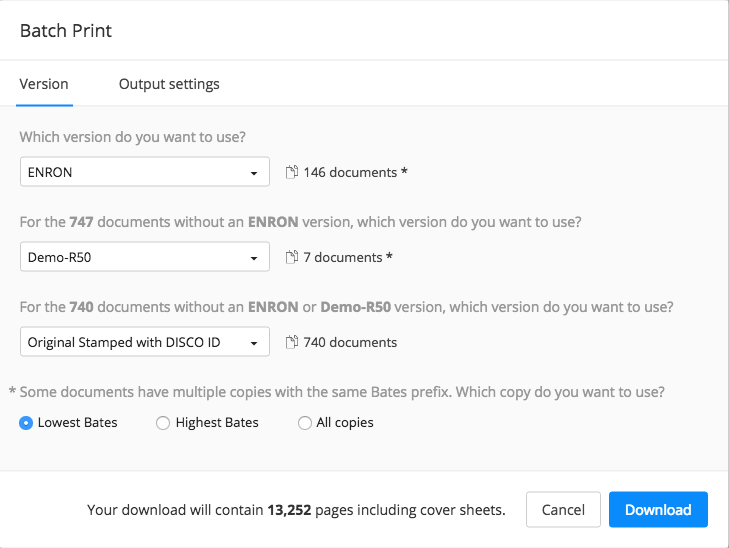 OUTPUT SETTINGS
Once you have chosen which Version you want to export, you can select your Output settings. All selections will result in your documents being exported to a zip file that will be made available for downloading. Output settings allow you to make the following choices: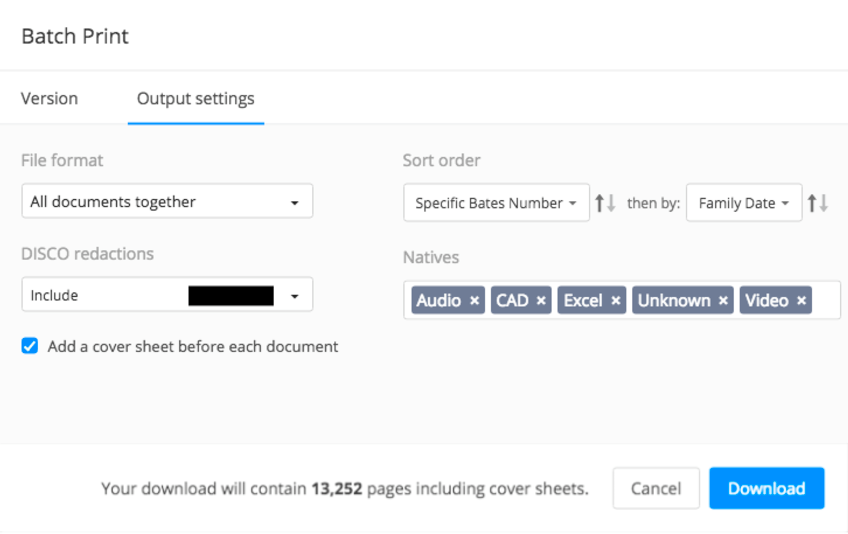 File format:
You can choose either:
All documents together -

 DISCO will export to one PDF

Each document as a separate file -

 DISCO will export each document as a PDF (or native if requested)
NOTE: Results over 10,000 pages will be split into multiple PDFs regardless of selection.
Sort order:
DISCO's improved Batch Print options allow you to choose a primary and secondary sort. It is important to note that when you choose Bates Number as your primary sort, DISCO will use the prefix(es) selected in the Versions tab. Furthermore, under this primary sort, documents without a Bates number will use the secondary selection for sorting.

In addition to being able to select up to two levels of sorting, you can now choose from the same expanded field options as found in DISCO's Custom Columns!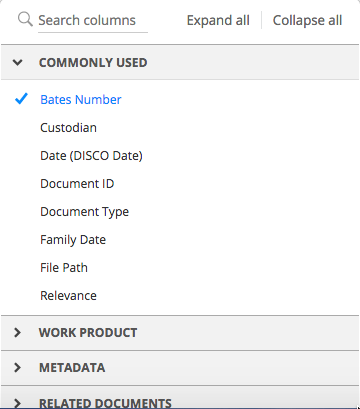 DISCO redactions:
You can control how DISCO redactions will appear on your images. The choices for redactions include: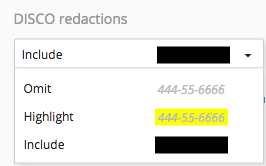 Omit -  clean image of the document, without any DISCO redactions
Highlight - redacted portions of the document are highlighted (this may reveal information previously hidden)
Include - redactions will be displayed as created in DISCO
Natives:
If there is an image and a native file available for a particular record, DISCO allows you to choose to download the native file in place of the image.  For original documents and incoming productions, that include both an image and a native file, DISCO allows you to choose to download the native file in place of the image.  For documents produced out of DISCO, they will be exported in the same format used in the production.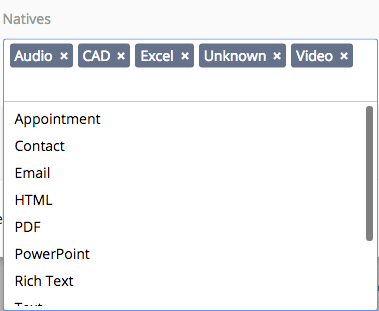 Cover sheet:
Finally, you can choose to include a cover sheet with each document. Check the box and a sheet with the Bates stamp or the DOC ID will be included before each document.
New Batch Print is available to all new databases created on or after June 27, 2017. Enjoy this updated feature in your next DISCO database!
Have additional questions? Please contact support@csdisco.com