DISCO is pleased to announce its latest user permissions improvement, Tag Permissions. Now administrators can choose to provide users with management, editorial, or view-only access to each Tag Group or individual Tags.  Use this feature to lock down tagging decisions once review is complete or create special purpose tags available to only specific users.
The new tag permissions are accessible within the Users & Roles feature.   
Users & Roles is where administrators can add new users and assign them one of DISCO's three standard roles (Admin, Reviewer or Restricted Reviewer) or create a Custom Role to be assigned.   Notice the upgraded interface when you select the Roles tab.  Under feature permissions, you will still be able choose which features each role will have access to, however, we have now added a new section called Work Product Permissions.  Expand the Work Product Permissions dropdown to view two new permission areas: Tags and Fields, folders, notes and redactions.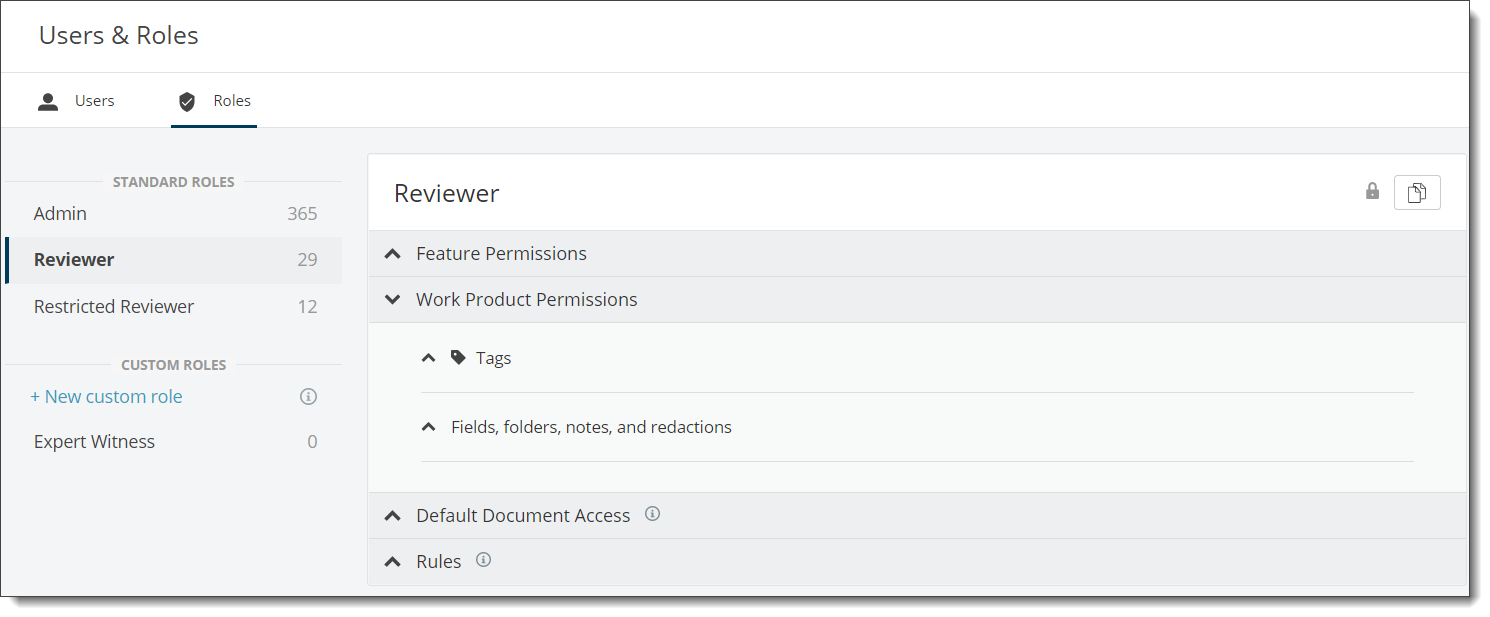 Expanding the Fields, folders, notes, and redactions allows you to add/remove Edit permissions  to each of these features.
View is always enabled for all roles and provides users with the right to see if there is any information for that feature for a specific document.
Edit provides users with the right to use each feature for a specific document.
Expand the Tags section to set permissions on tag groups or individual tags.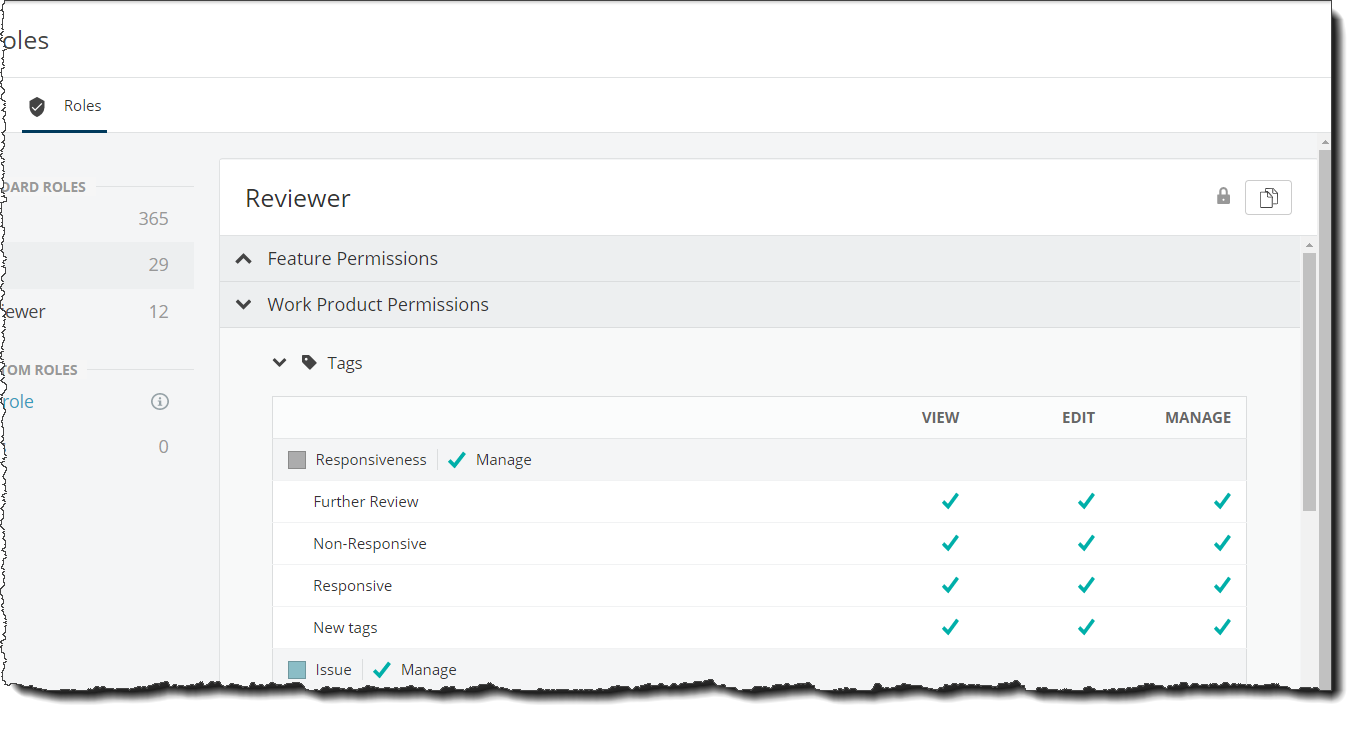 Next to each tag group name you will see a drop down which allows you to set permissions for that tag group.  Those permissions include:
None - Users will not have any access to the tag group including being unable to view any tags within the group.
View - Users can view tags within this group.
Edits - Users can add tags to this tag group and control color, order, and group name.
Manage - Users will be able to delete this tag group.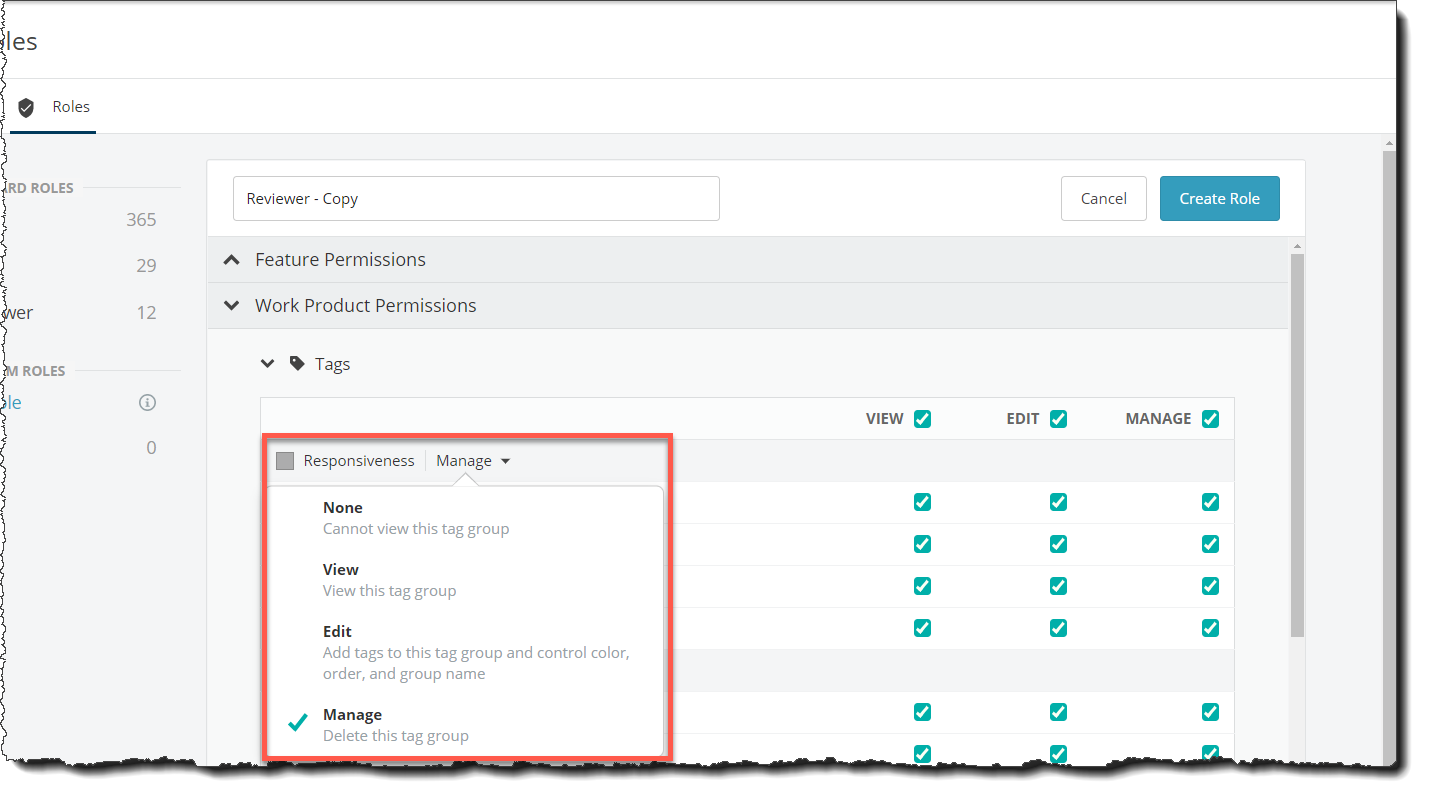 In addition, you will be able to set additional permissions on individual tags within a tag group.  Those permissions include:
View - Users can view when the tag has been applied to a document.
Edit - Users can apply or remove the tag to or from a document.
Manage

- Users can delete, reorder, and edit the shortcut for the tag.

 
Under each tag group will be a New tags row.  Here you can set the permissions for any new tag created within that group.  If you are worried about the wrong permissions being applied to a newly created tag, you can uncheck all the boxes.  In the example below, a  user in this role would be able to view all existing tags within the tag group and would be able to add/remove the existing tags to documents.  However, they would not have any rights to any new tags created under this group.   

 In addition to setting permissions for tags yet to be created within an existing tag group, you can set default permissions for any new tag groups that have yet to be created.  Please keep in mind that you can update a custom role's  access to any tag or group at any time.

 To better understand Tag Permissions, let's walk through an example case.  As the administrator you have created all your required tags.  In addition to standard tag groups such as Responsiveness and Privilege, you have created one group named Information and another named Admin.  The Information group will be used to alert attorneys about the current status of a document such as is being reviewed by outside counsel or having been produced.  While the attorneys need to see to which documents these tags have been applied, they will not need to add/remove these tags to/from any documents.  The Admin tag group you have set up to allow you to prepare documents for QC and production purposes.  Only other administrators or yourself will need any access to this group.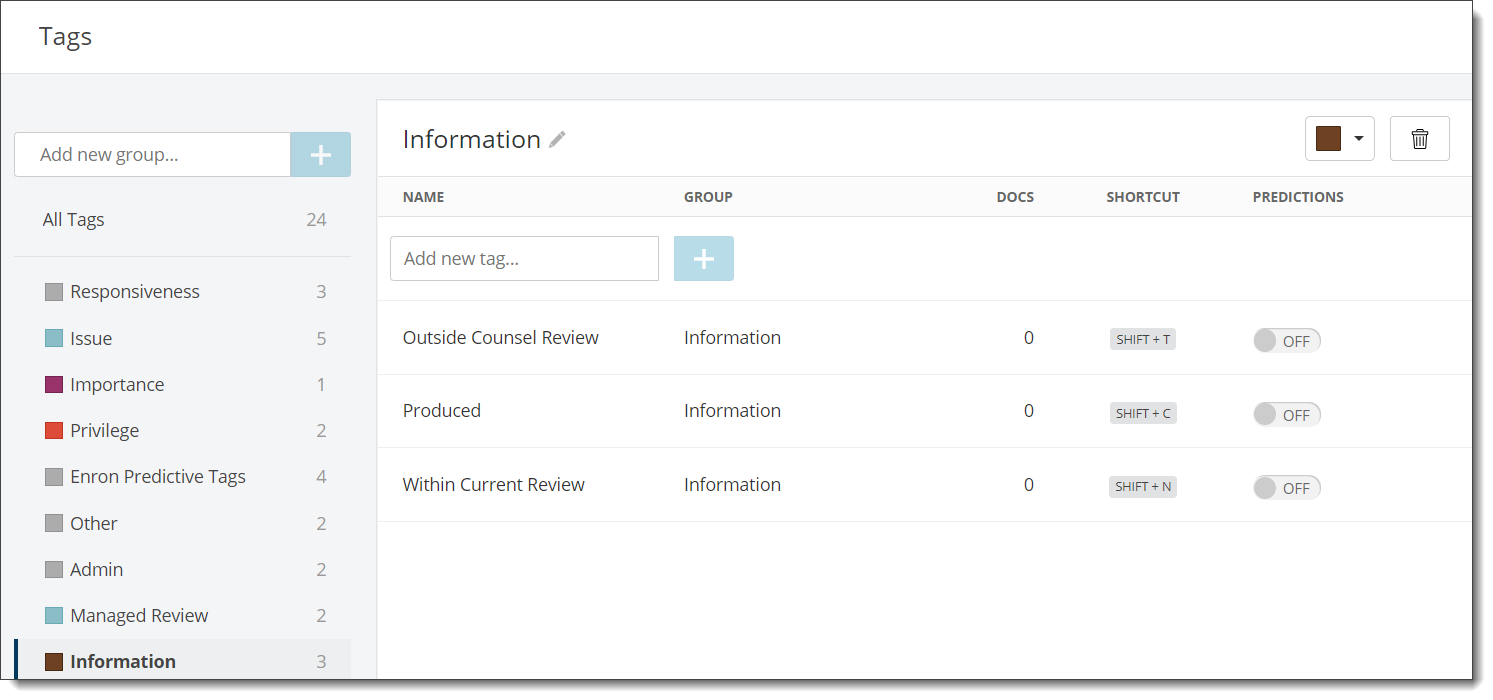 Let's say you have been asked to create a new role called Staff Attorney.  You can start by either creating a new custom role from scratch or by copying an existing role.

Next, you will name your new role (Staff Attorney) and set your feature permissions by adding/removing the check marks to the left of each feature name.  If you have any questions about the implications of adding/removing a feature, look for and hover or the i icon for explanations.
 Once your Feature Permissions selections are complete, you can move onto Work Product decision.  Please note that Fields, folders, notes, and redactions will default to Edit rights,  Once you have finalized those decisions, you are ready to focus on tags.
 For your example case, your Staff Attorneys will need the following permissions:
The ability to view, add, and remove tags within the Responsiveness, Privilege, Confidentiality or Information groups without the ability to add new tags to the groups or modified existing tags. This can be done with View access to the group. 
The ability to create new tags and reorder as needed within the Important and Issue tag groups. This can be accomplished by providing the Staff Attorneys with Edit access. 
The users in this role do not need any access to the Admin group so you update that group permission to None.
In addition, this role does not require the ability to delete, reorder, or edit shortcuts for the tags outside of those within the Important and Issue groups.  Therefore, you can remove the ability to Manage from all the individual tags.  Please note, that by clicking the checkmark to the right of Manage at the top of the Tag Permissions area you can bulk remove the Manage ability from all individual tags.
 Since the Information tag group is for reference purposes, you can take away Edit abilities from that tag group as well.  Once you have finished updating your tag permissions click Save and your new role with advanced tag permissions will be created and look similar to the picture below.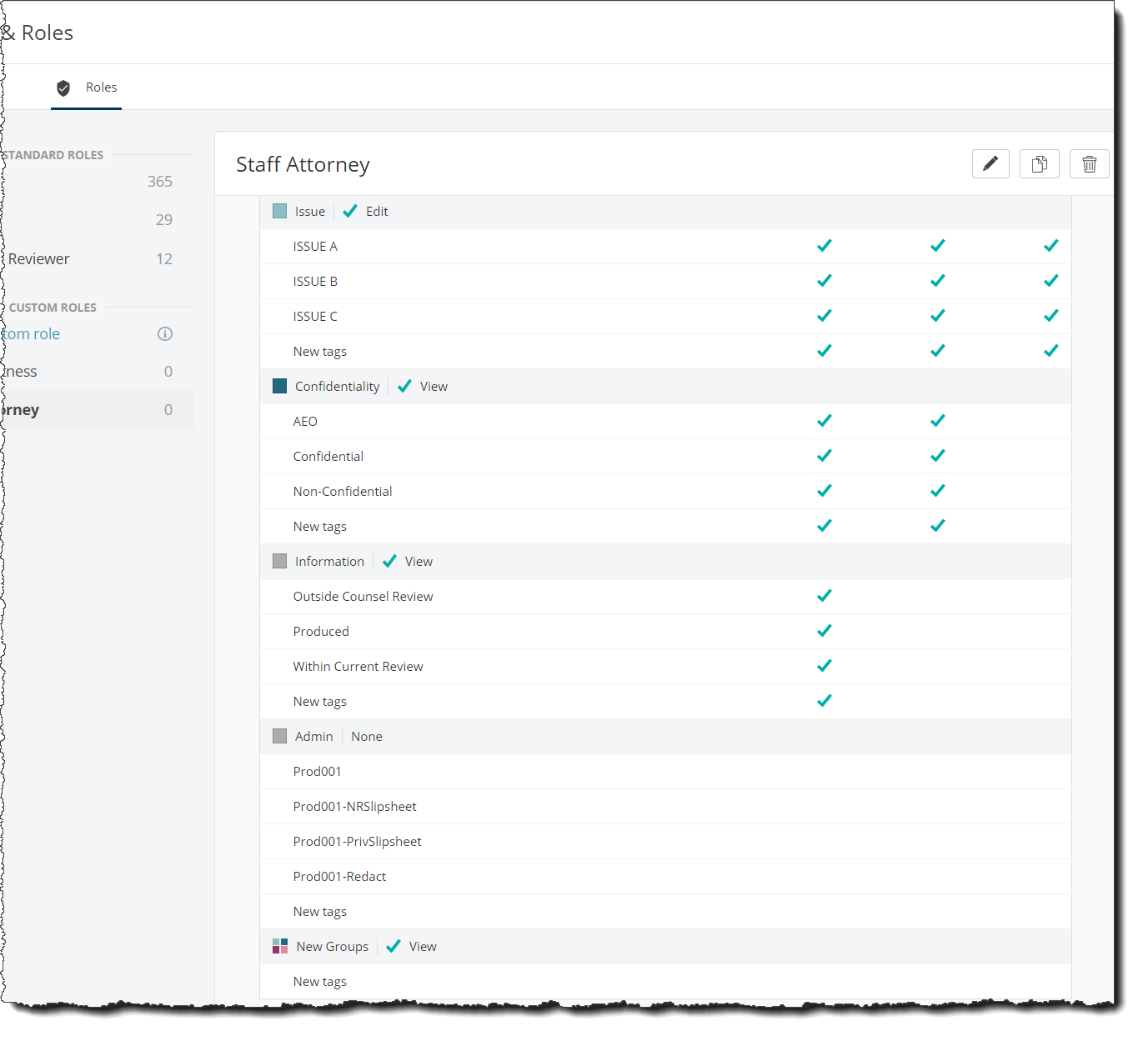 For the users who have been assigned the Staff Attorney role, tagging will look like this.  When a Staff Attorney views a document from the Document Viewer, the Tag Pane will only contain tags they have the ability to add/remove to/from the document they are viewing.  They will be able to select any of the tags they see by either clicking on the tag name or using the tag's assigned keyboard shortcut.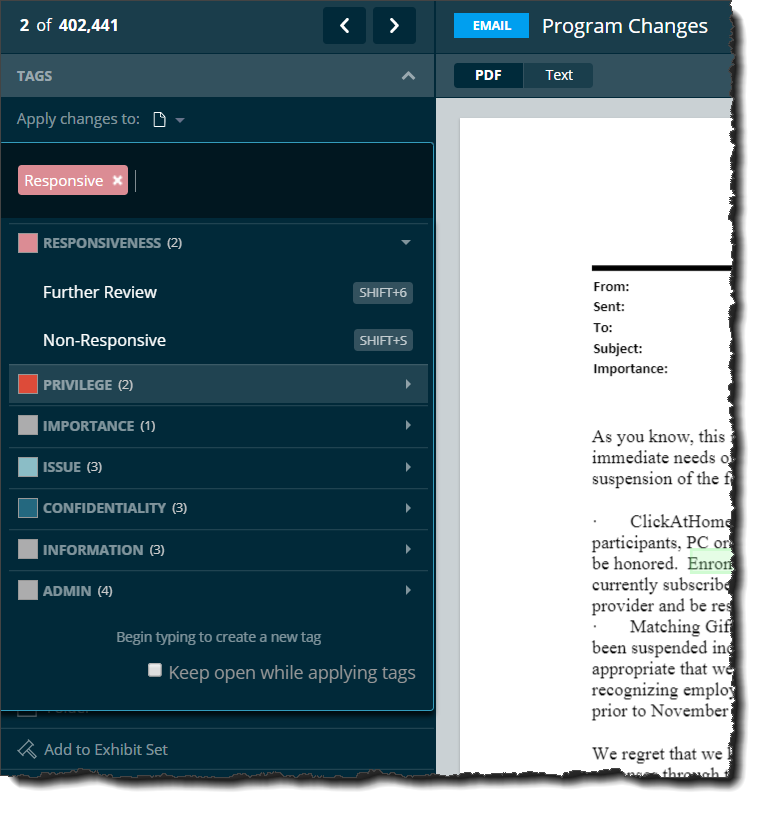 Since they have been provided Edit access to the Important and Issue groups, the Staff Attorneys will be able to create new tags on the fly by typing into the tag pane.  Once they have created a new tag (in this case ISSUE D) they can select to associate the new tag with a tag group in which they have Edit rights and click Create and apply tag to create the new tag.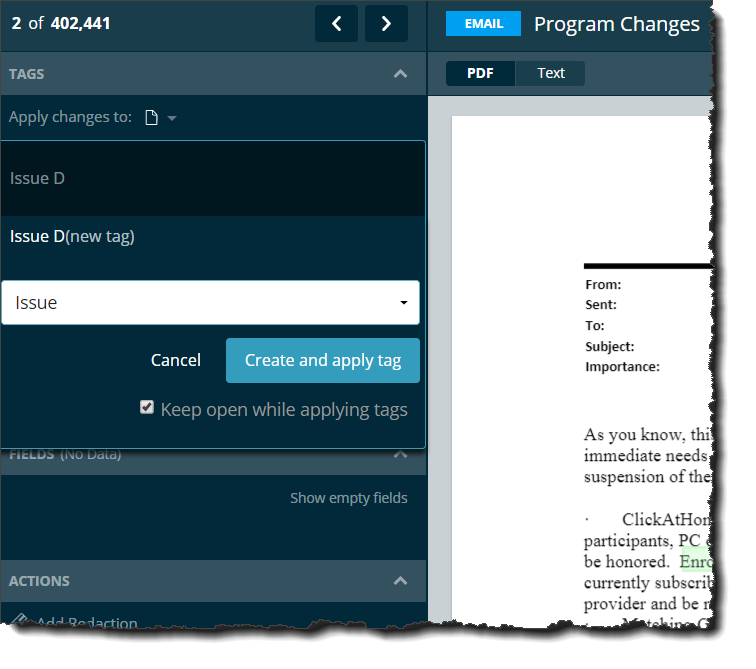 If the user's role did not have Edit rights to any tag group and they attempted to create a new tag on the fly (in this case ISSUE A), they would not be able to associate the tag with a tag group (as seen below).  Since the creation of a new tag is dependent on associating it with a tag group, the user would not be able to create the tag and apply it to the current document.
For tags to which the Staff Attorney role only has View access, they would see the tags listed in the View Only Tags area in the tag pane within the document viewer.
Since you have provided the Staff Attorney with the ability to Edit tags within the two existing tag groups, they will be able to access the tag management feature.  For the groups to which they have Edit rights, they will be able to add new tags, move a tag to another group they have Edit rights to, and update keyboard shortcuts.  However, they will only be able to delete tags if they have been given Manage permissions.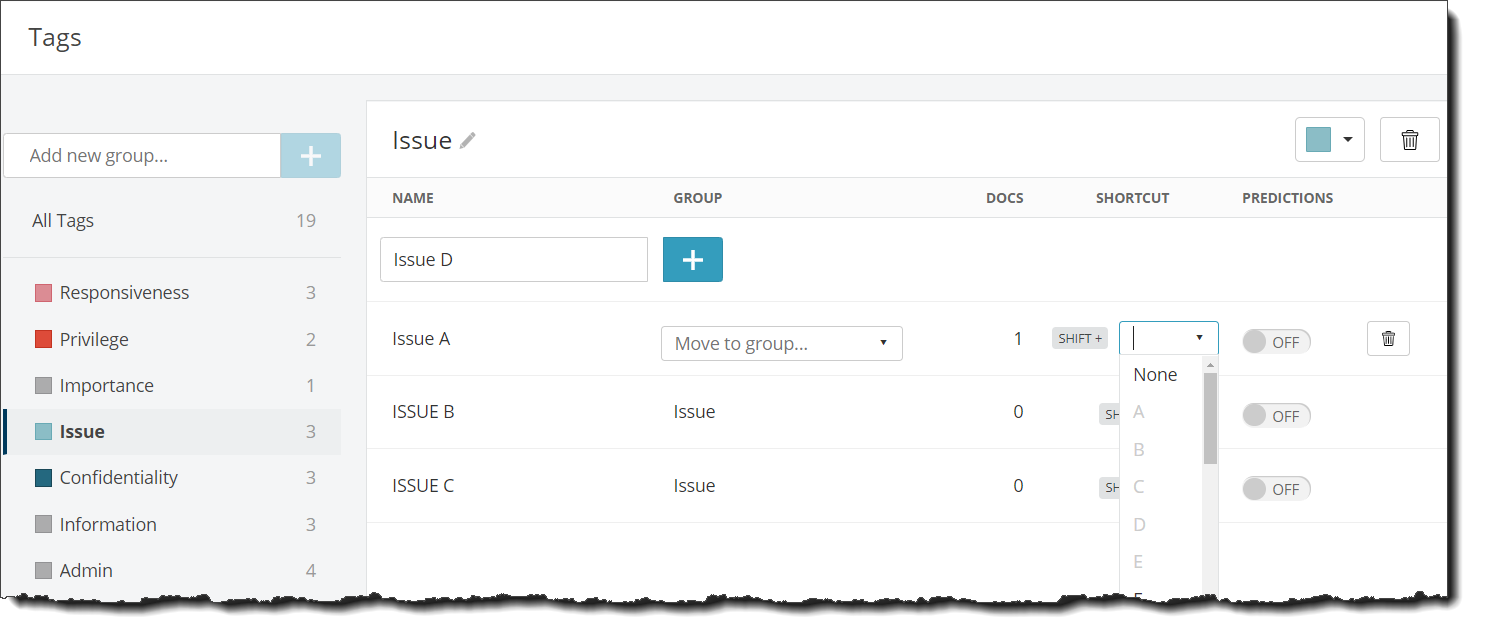 For tag groups in which Staff Attorneys do not have Edit rights, they will not be able to add, move, or update tags.  Finally, for groups such as Admin, for which the Staff Attorney role was given no permissions, they will not be able to see the tag group or underlying tags at all.

Tag permissions will carry through to the viewing and applying of tags in DISCO.  Let's say there are 6 documents tagged Prod001 from the Admin group.  When logged in to a database as an administrator, you can see all the tags that have the PROD001 tag within the Search Filters feature.
 However, if when the Staff Attorney logs in, they cannot see any of the tags from the Admin group in Search Filters.  The Admin group tags will also NOT be displayed within Search Builder.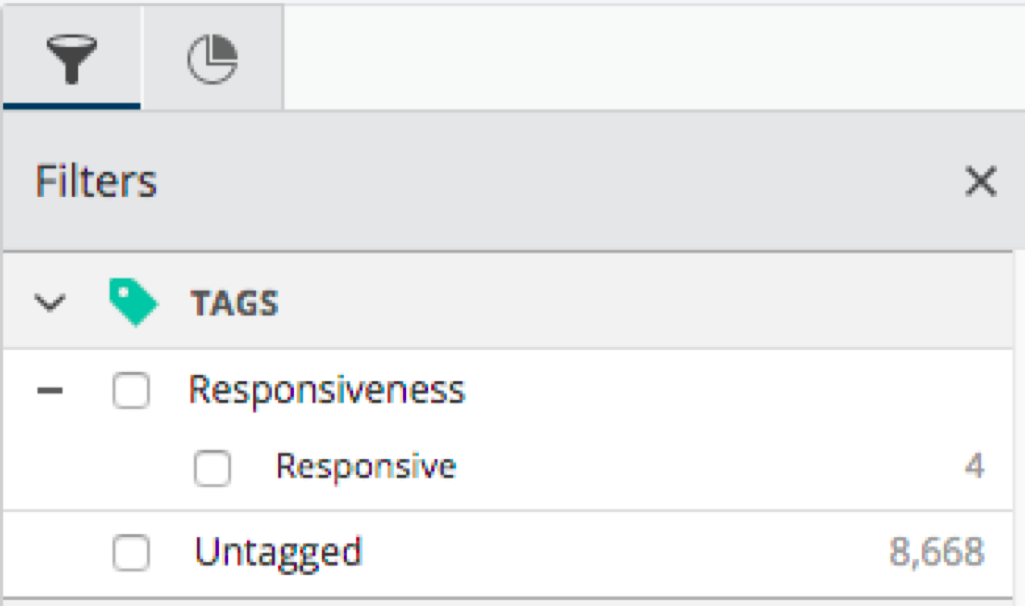 While restricted tags applied to documents will not be visible to users who do not have permissions to them, if a restricted user were to run a search such as tag(!) their results will include documents that contain the restricted tags.  Furthermore, they will be able to see the total tags applied to each document under the Tag Count column in the Document List View.  However, if they hover over the Tag icon or include the Applied Tags field in their Custom View, they will not be able to see the names of the restricted tag(s).
As an administrator, you will need to create Review Stages for your team.  In this case, if a Review Stage required the ability to add/remove or view tags to which the Staff Attorney did not have adequate permissions, DISCO will alert you that the assigned reviewer does not have access to the necessary tags.  Furthermore, it is also important to note that if you provide reviewers with access to Redactions and Notes within a Review Stage, that will override any restrictions that might have been placed on the reviewers due to their role assignments.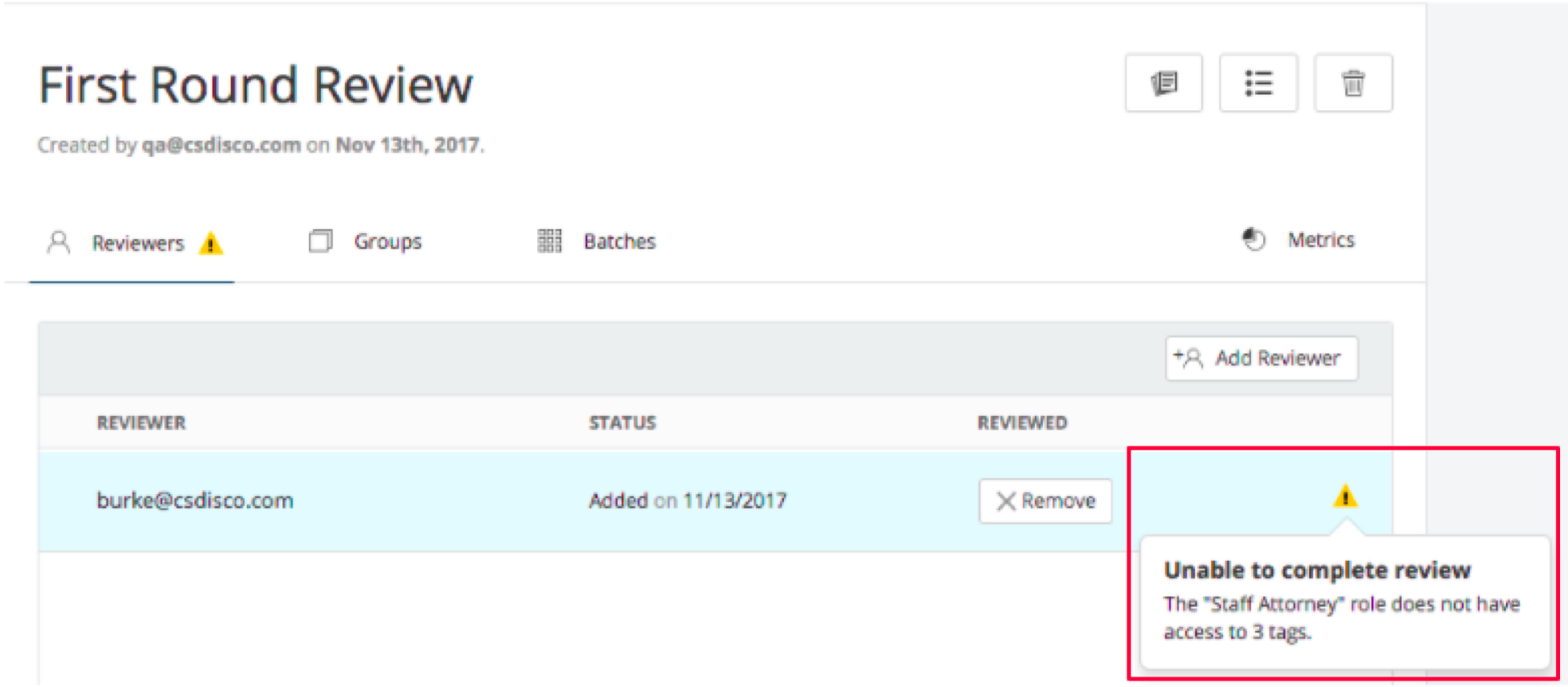 This feature is available in all databases created on or after 11/14/2017.  If you have any questions on Tag Permissions, please do not hesitate to contact DISCO Support at support@csdisco.com with your questions and we will be happy to help! 
Finally, click on these links to learn more other features mentioned in this article, such as Custom Roles and Custom Columns.