You are reviewing documents that need to be redacted. When the document is produced, you need to specify the reason for the redaction on some or all of the redactions. DISCO allows you to painlessly add and manage redaction reasons made on any of your documents. Here's how it works:


Add a redaction from the document viewer
Select your redaction color
Label using an existing redaction reason or create a new reason


Start by clicking on the left sidebar action Add Redactions or Edit redactions from your document view. Click and drag on any page to create a redaction.
Edit the color of your redaction by clicking on the redaction. Then, choose a redaction reason from the drop-down bar. DISCO is pre-populated with several standard redaction reasons. However, if you do not see the reason you would like on the list, begin typing to create a new reason.

Don't worry about the length of the redaction reason.  If the redaction reason text does not fit within the redaction itself, a symbol will be created and a resizeable legend will appear at the top of the page.  All redactions appear opaque when they're produced, though the text of the redaction reason will be readable, overlaying each one where it is applied.
Once you've completed your redaction, click the Save button. To review the statistics or globally delete redaction reasons, navigate to:
Administration Menu > SETUP > Redaction Reasons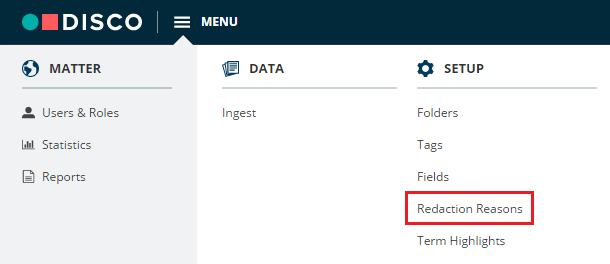 Lastly, there are several ways to locate documents redacted and/or labeled with a redaction reason. From the administration screen, click on the redaction reason title to find all documents labeled with that reason. Or, use a combination of the following search syntax:
hasredactions(true|false)
hasredactionreason(true|false)
hasredactionwithoutreason(true|false)
redactionreason("text of redaction reason here")
Please note, this feature improvement is only available for new databases started on or after Saturday, July 25th. Look forward to seeing it in your next DISCO case! Be sure to contact DISCO Support with any questions you may have.