Email conversations, also known as threads, represent emails in a conversation chain (i.e., replies and forwards stemming from an initial email). DISCO first looks for reliable conversation information from the email container to assemble the conversations (such as a Conversation ID from a PST). If no reliable conversation information is available, DISCO makes an educated guess based on the following criteria: to form a conversation, all emails must have the same normalized subject line, at least one common participant, and the date of all said emails must be within 90 days of each other.
Click the "Conversation" button to list all of the emails in the current email's conversation, sorted by sent date from earliest to most recent. In this example, there are four total emails in the conversation, including the currently displayed email. The following information is displayed for each email: DISCO ID, sender, excerpt of first few words of the email, and sent date. Click on a row to navigate to a particular email (or use keyboard shortcut "SHIFT + up/down" to navigate to the next or previous email in the conversation). This jumps to previous/next email inside the current conversation.
To tag an entire conversation, check the upper lefthand sidebar box on the document viewer Apply tag changes to the entire conversation before making any tag changes.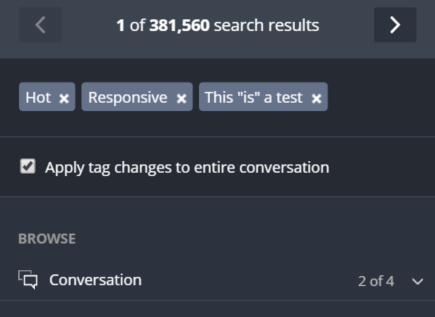 *For databases created on or after January 10, 2017, please read Threaded Conversations Browser for your most up-to-date information.