Based on your valued feedback, we've improved search highlighting in DISCO. When reviewing a document, instead of having to view search hits on the text display, you now see highlighted search hits directly on the near-native PDF. Behind the scenes, we've improved OCR processing of documents to make this feature even more robust. Here's how it works.

Complete a search in DISCO; navigate to view a document. On the near-native document, you will see your search hits now highlighted in yellow (default). You can even customize the highlight color to fit your preferences (more on that later). Any global term highlights in your database will also appear on the near-native PDF.
Let's say you run a search in the Enron database for "Ken Lay". You have customized search hits to highlight in pink. You've also set up a global term highlight for the word "Enron" to appear in blue. Now, when you view a resulting document, you will see the words "Ken Lay" highlighted in pink. You will also see the word "Enron", if present, highlighted in blue.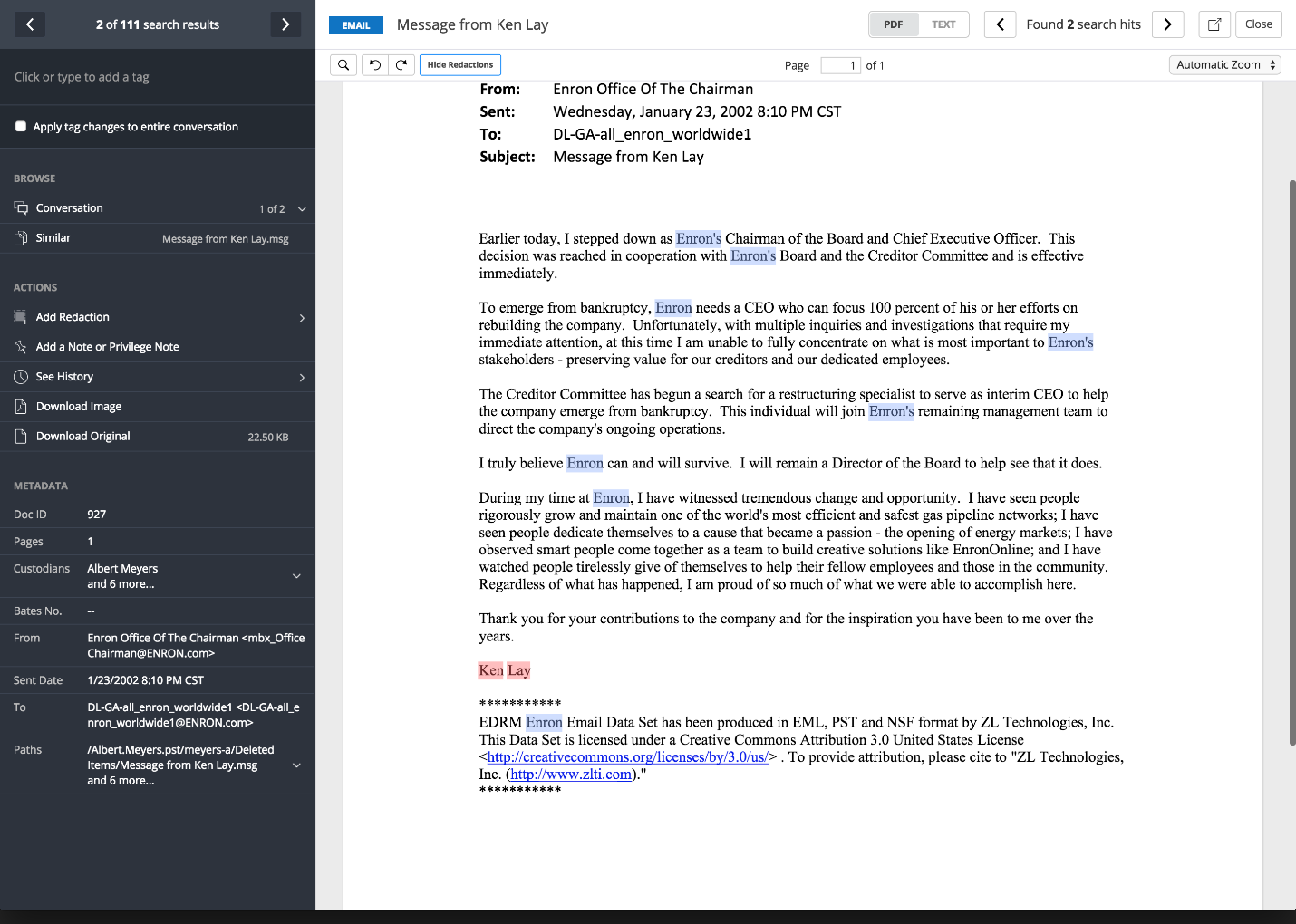 To customize the color of your search term hits and/or to setup term highlighting, navigate to the main 'hamburger' menu on the very top left of your DISCO database.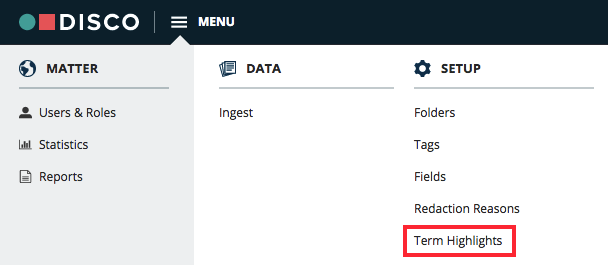 Then, choose Term Highlights under SETUP.
From this screen, you can do two things. First, use the select bar to customize the color of your search term hits. You may choose between the highlight options: yellow, green, blue, red or orange.
Second, you can create and customize global term highlights. These automatically highlight a term when in the document viewer, regardless if term was a search hit or not. To add a new term, click the blue text "add another". Add a new term. To have multiple terms highlighted with the same color, enter the terms to be highlighted, separated by semicolons. Choose the term highlight color and 'save'.
Improving search highlighting allows for you to easily skim a document and see relevant terms. Our improved search highlighting capability is made possible by additional improvements made under the hood with OCR processing of data during ingestion.
Please note, this feature improvement is only available for new databases started on or after Friday, June 10th. Look forward to seeing it in your next DISCO case! Be sure to contact DISCO Support with any questions you may have.