If you have run a mass tag and now want to undo it, the first step is to run a search for the tag just applied by you. For example, if you mass tagged a group of documents with the tag Hot, you will run a search for tag("Hot") and tag(by [your user name]).
Note: There is no undo option when a recent mass tag coincides with existing documents using the same tag.
Just like you chose the tag icon to run the mass tag in the first place, you will select this same tag icon to also undo the tag. The icon is found on the top right of the review page, below the search bar, but above the search results. 
After you click this icon, you will type the tag Hot that you just applied in your mass tag into the bar labeled "Remove." You can select how to apply this change from one of the options shown in the figure below. Then, click the blue Update button in the bottom right corner. For more information about this feature, see Release for December 6, 2016: Tag Propagation.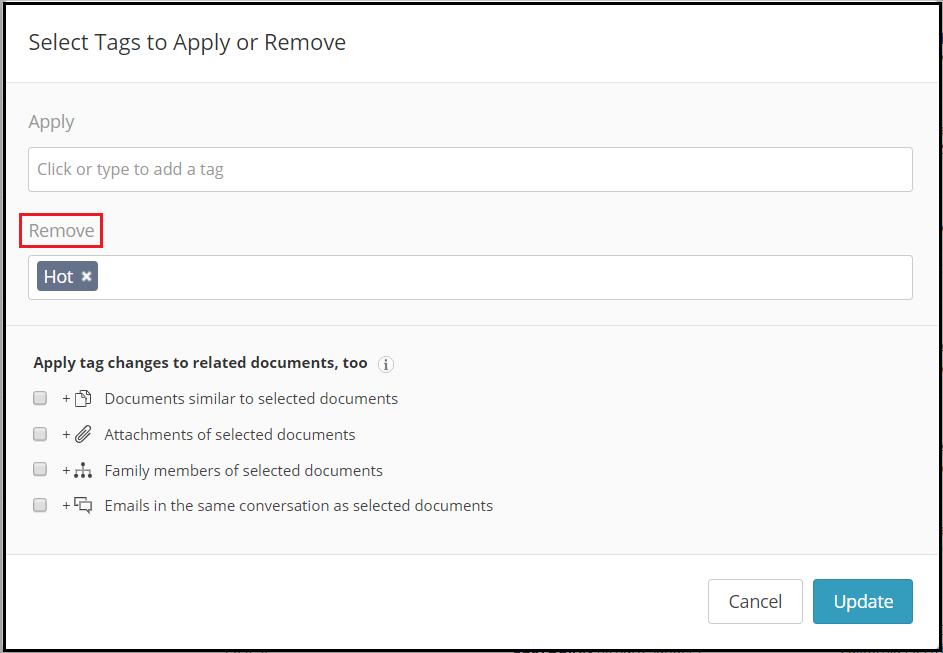 Once you have started your removal of the mass tag, the bell icon on the very top right corner of the review page will update you on the progress of the removal of the tag Hot. If you click on the bell and the removal has completed, you will see a message like this one:
You can run multiple mass tagging jobs (adding or removing tags in batch) at the same time. However, the system will run the mass tagging jobs one at a time. This is done to make sure there are no conflicts across the multiple tagging requests.
If you are not sure if the tag was removed or if you have any questions, don't hesitate to contact DISCO Support at support@csdisco.com.