In the course of a matter, it may be necessary to evaluate your collection of documents in connection with objecting to RFP's from opposing counsel, preparing for a Rule 26(f) conference, or to set up an efficient workflow.
To meet these and related needs, Search Term Reporting provides an easy way to quickly evaluate the number of documents encompassed in a series of search strings. With Search Term Reporting, users can easily add terms using the search builder in DISCO or drag and drop a text file to add a list of search terms that was prepared elsewhere.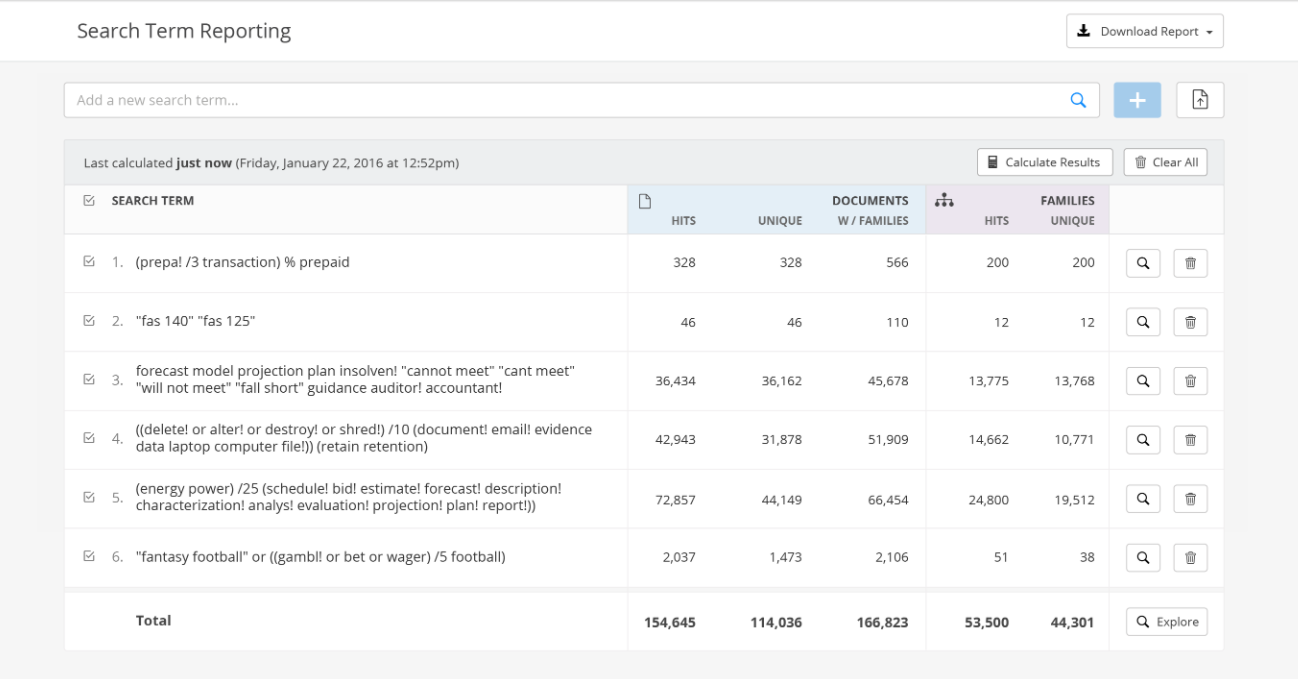 This is a sample screenshot of Search Term Reporting on DISCO that analyzes and provides a breakdown of multiple searches. With Search Term Reporting, lead attorneys and review managers now can:
Enter searches, either by typing them in or drag-and-dropping a text file (up to 1000 searches at once)
Entering Searches using the WestLaw/LexisNexis Style Search Syntax:

OR dragging and dropping a text file directly into your database:


After the desired search terms have been entered, you will select 'Calculate Results'. 


View each search with its resulting hits, unique hits, number of documents with families, number of family hits, and number of unique families.
Explore and adjust searches as necessary.
a. Explore search results for particular searches by clicking on the magnifying glass icon beside each search.
b. Turn searches on and off by checking or unchecking the checkboxes on the left to see the impact of each search on that total.

c. Add, remove, or edit searches (such as changing the order of your search strings) and see the impact on document counts

**Note that when the order of your search strings is adjusted, so are the resulting numbers on the right** Displayed below for easy comparison:

Lastly, download a PDF or Excel report to use internally, in negotiations with opposing counsel, or in court.

This feature is available in all databases created on or after 04/11/2016.
If you have any questions on Search Term Reporting, please do not hesitate to contact DISCO Support at support@csdisco.com with your questions and we would be happy to help!