Search Visualization
DISCO Search Visualization is a simple and straightforward way to get a better understanding of the documents in your database. The feature allows you to explore the documents in your database to identify trends, patterns, and hotspots. Quickly gain an understanding of the make-up of your data population and design your review strategy faster than ever before.
How do I use search visualization in DISCO?
Enter your desired search terms into the search bar on your DISCO database document list. For example, below there are now 1,182 results based on the search query "price" "price manipulation".

Next, turn Search Visualization on by selecting the 'pie chart' icon to the left, below the search bar. Based on the search query, the system visually displays various metadata: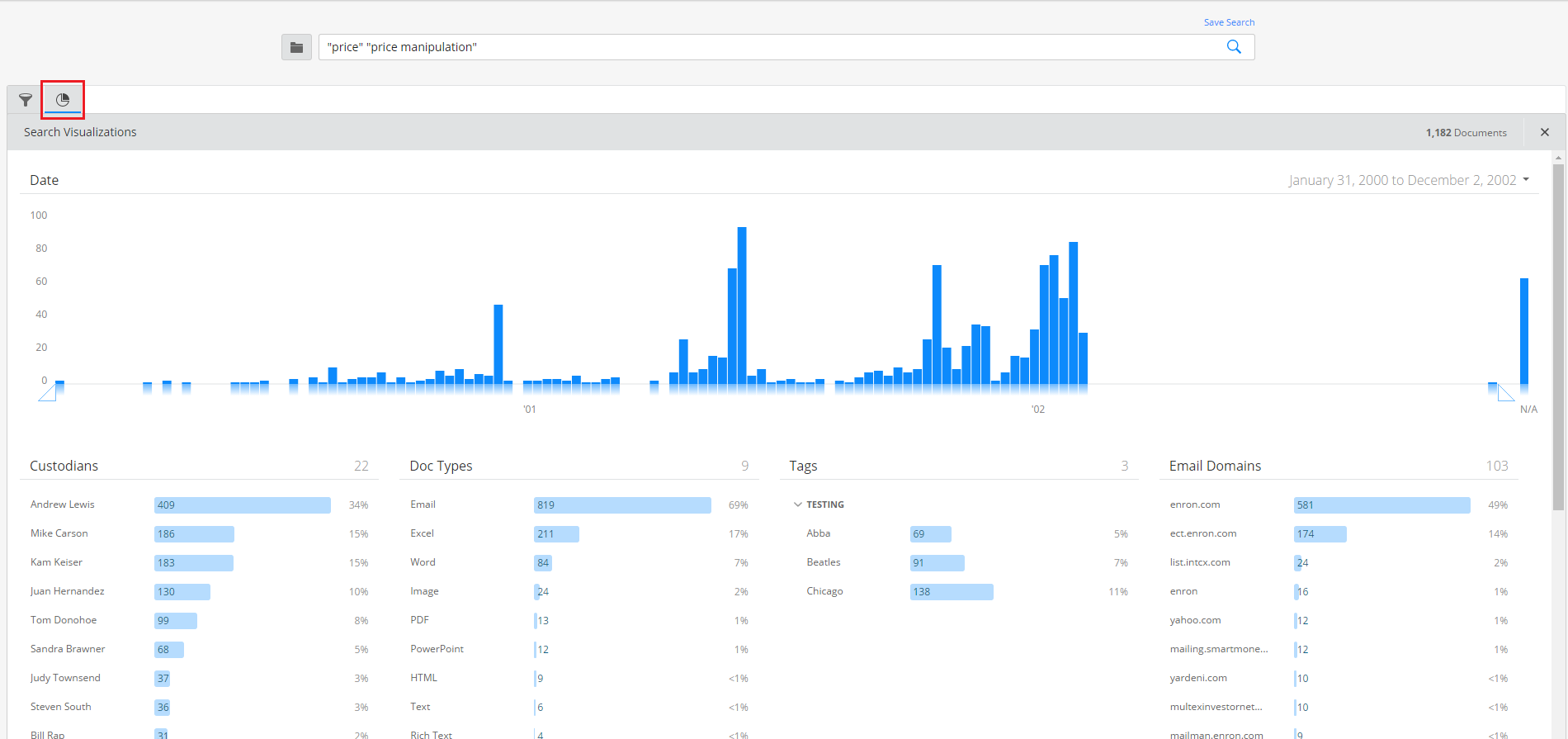 Metadata such as Custodians, Doc Types, Tags, Email Domains, Senders, and Recipients are diagramed in easy-to-analyze charts. Some charts display stacked data. For example, recipients are broken down by To, CC, and BCC.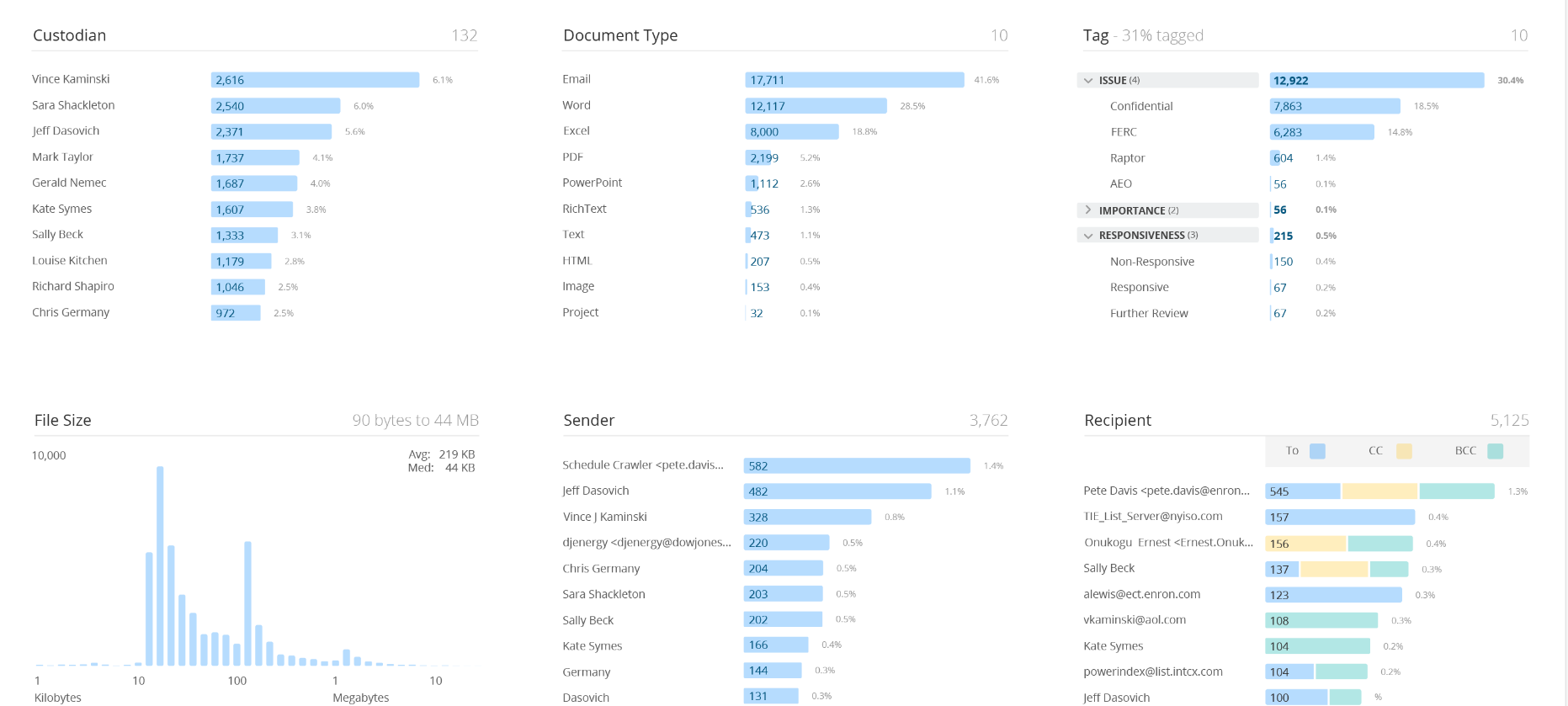 You can visually drill down further into your search results by clicking on one of the displayed metadata fields. For example, click on 'Document Type'. The charts update in real-time. You can also adjust the order of how the data is displayed. For example, where the doc types are listed, order by count or by name.
Easily make additional selections based on your findings. Here we will select the document type, 'Excel' by clicking on the area of the chart that represents 'Excel'.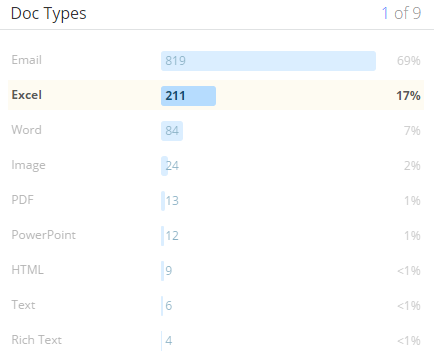 By selecting 'Excel' the selection changed ALL other metadata fields based on what was selected. As you can see, the total custodian count was 22 BEFORE selecting 'Excel' and the total custodian count AFTER selecting 'Excel' is 20.
*Before Selecting 'Excel'

*After Selecting 'Excel'

As you select more metadata fields, the other metadata fields will also continue to adjust/change based on your selection. Below you will notice since 'Email' is not a selected Doc Type, Email Domains, Senders, and Recipients counts are 0.

Drill down even further and select a particular custodian - Kam Keiser's - documents by selecting the custodian 'Kam Keiser'. By selecting Kam Keiser, you are able to see where there are gaps, hotspots, or trends in the collection of her documents occur by looking at the 'Date' metadata.

You will also notice that each time you drill into one of these metadata fields, DISCO puts a pill on the very top of your database (under the search bar to the right of the search visualization icon). You can see we have selected 'Excel' OR 'Word' as well as 'Kam Keiser'.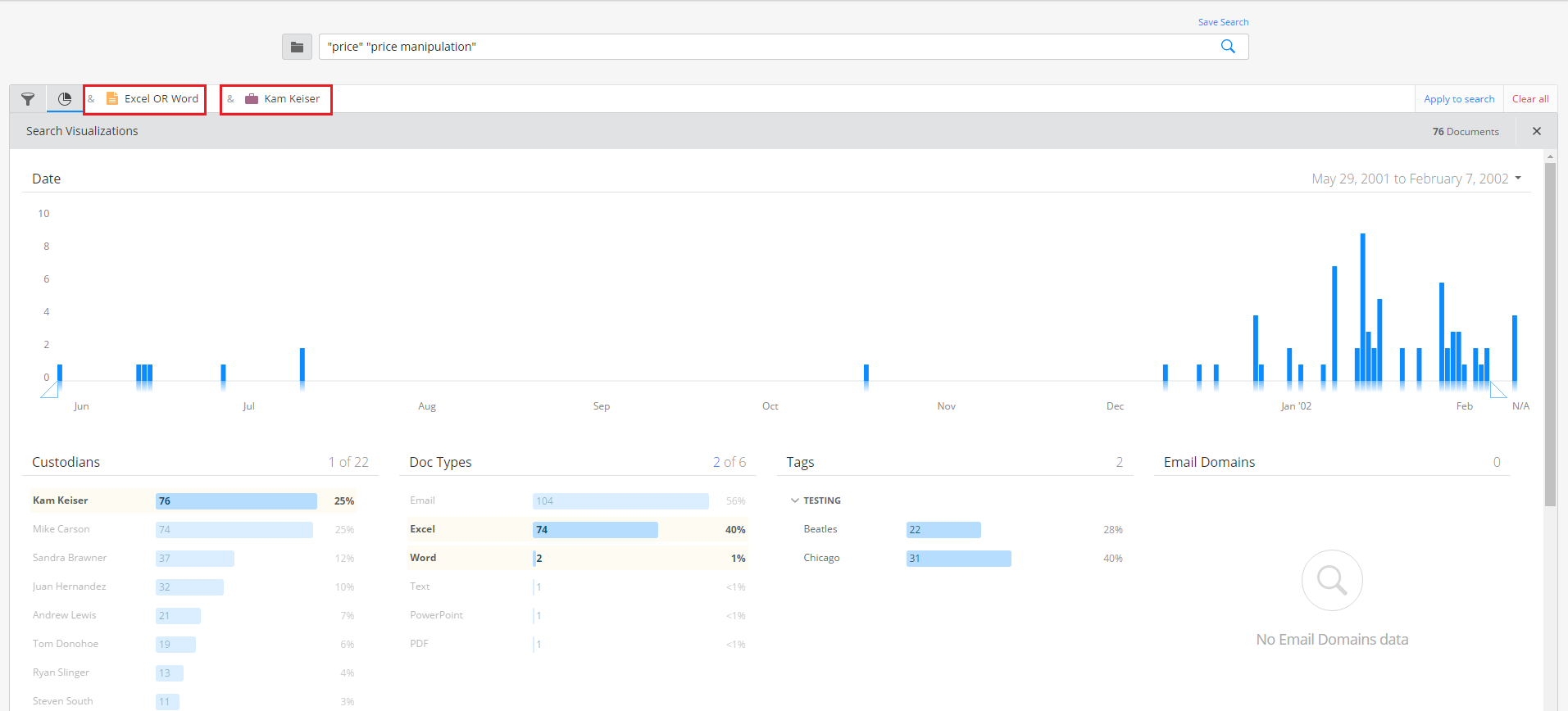 Now let's drill into Date. By clicking on the displayed histogram, two arrows outlined by blue will appear on both ends of your histogram. You will use these two arrows to select a certain time window from which you would like to view documents from. In the image below, we have selected the time window, December 10, 2001, to February 7, 2002. Another pill has been added to the very top next to the other pills 'Email OR Word' and 'Kam Keiser'.
When you select the button, 'Apply to search' to the right of the pills, the charts update. You will notice we went from 1,182 documents to 68 documents. Once you have selected 'Apply to search', the selected pills will be promoted directly underneath the search bar. Now that your selections have been promoted to the search bar, they become part of your search history, therefore, your selections are saveable. To save your filter selection(s) you may choose to save your search by selecting the 'Save Search' button on the right above the search bar.

If you wish to view these documents in DISCO's standard list format, you simply select the 'X' button to the right of the document count. These 68 documents are limited by 'Excel' or 'Word' documents, Kam Keiser, and the time window, December 10, 2001, to February 7, 2002.

 If you have any questions, please contact support@csdisco.com.