As part of our continuing efforts to make DISCO as easy and intuitive to use as possible, we have streamlined our production deduplication choices to three. Our updated choices and new naming conventions ensure that you always make the right production decision to meet your matter's needs.
In order to understand DISCO's production deduplication options, you must first understand how DISCO deduplicates documents upon ingest. As part of our standard processing, DISCO will deduplicate data across all custodians and data sources while maintaining complete families. This process results in a single record for each member of a family or stand-alone document. All Instances of duplicate data are maintained in DISCO's data storage but only one record of each document will be displayed for review. Furthermore, upon production, you can choose to produce either one instance of each duplicate record, one instance of each duplicate per custodian, or all instances of each duplicate.
Once your documents have been ingested into DISCO, you will be able to review each document (or record) and categorize each by applying tags or placing them into folders. Once you have completed the review and categorization of your documents, you will be ready to create a production. DISCO's Production feature can be accessed by clicking Productions in the main menu.

The New Production page gives you various options, such as naming your production, selecting your criteria (such as all documents tagged responsive but not Attorney-Client or Work-Product), choosing your Bates prefix along with starting Bates number, and adding a Confidentiality stamp. Once these selections have been made, you can either choose to run the production using DISCO defaults or open the Advanced options section to reveal more choices.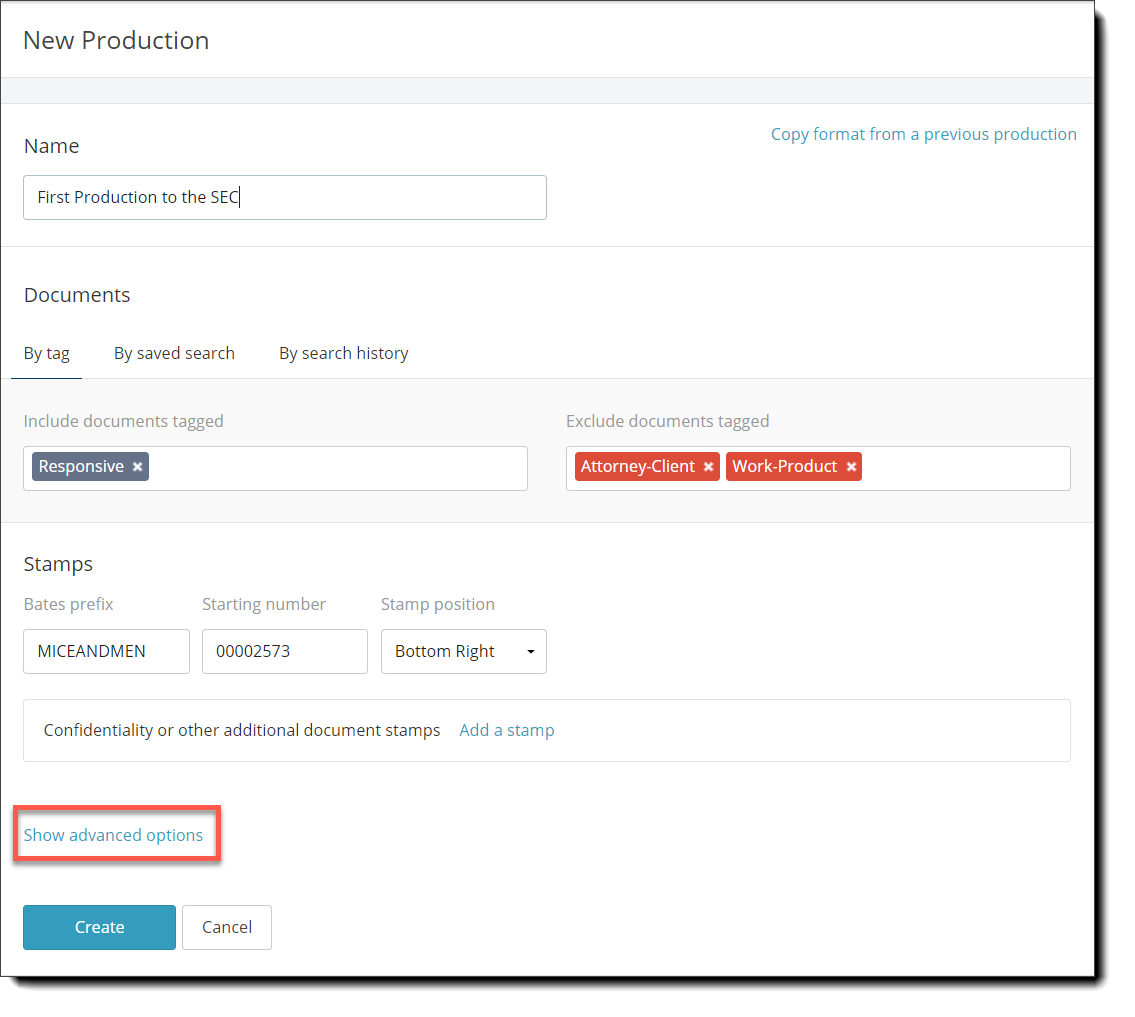 For more information about how production deduplication levels work, as well as how to create or modify a custom load file, see Production deduplication.
These production deduplication options are available on all databases created after January 8, 2018.