Batch print output settings let you control the format and order of the documents included in a batch print.
Click the Output settings tab to modify the default settings.
Images
All images in one PDF – Images of documents are combined into one PDF. PDFs larger than 10,000 pages will be split into multiple files, regardless of selection.
One PDF per document – Each document image will be exported as a separate PDF.

DISCO redactions
Include – Redactions will appear on the document images as created in DISCO
Omit – Exports a clean image of the document, without any DISCO redactions
Highlight – The redacted portions of the document will be highlighted
NOTE: Choosing to either omit or highlight redactions may reveal information that was previously hidden.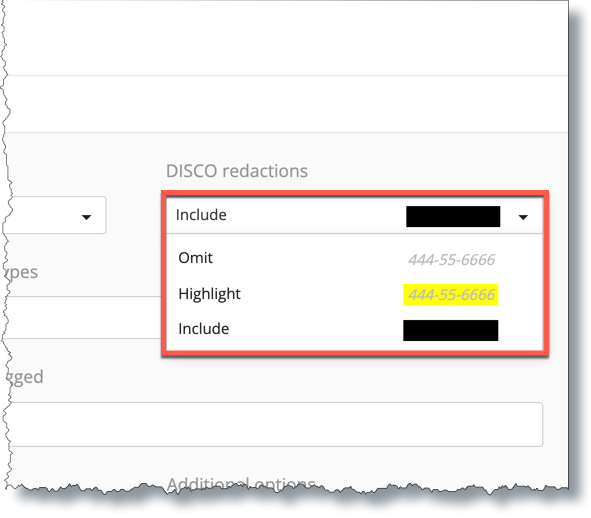 Options to export native files
For originals and incoming productions (but not for productions made in DISCO), you can select documents to export as native (rather than as PDF images) by file type or by tag. For productions made in DISCO, the format used will always be the format of the production.

Sort by
By default, documents will be exported in the sort order selected from the Document List View.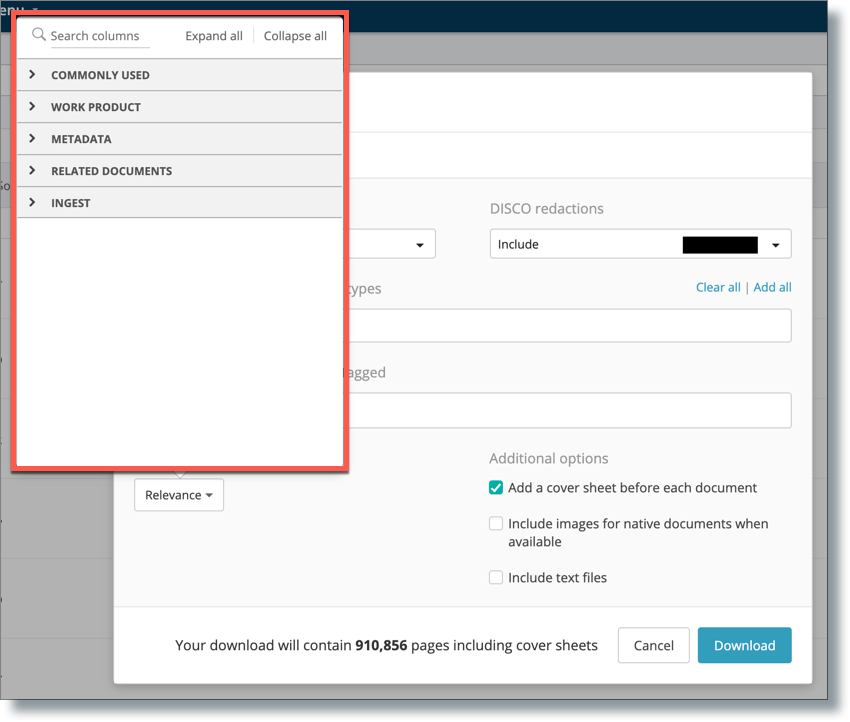 To update the sort order, use the field picklist and select to sort the documents by up to two fields.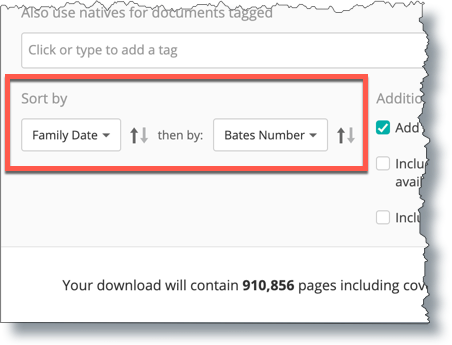 In the example above, documents will be exported with Family Date as the primary sort and Bates Number as the secondary sort.
When exported as one PDF, individual documents will appear in sort order within the PDF. When exported as separate PDFs and/or natives, the file names will be prefixed with a number (e.g., 000001) to enforce the selected order.
If Bates number is selected as the primary sort order, the files names will use the Bates prefix(es) selected in the Versions tab for the naming convention. Documents without Bates numbers will use the secondary sort order and will have a numeric prefix to enforce that sort order.
Additional options
Add a cover sheet before each document – A cover sheet will be placed before each document. This option is only available when documents are exported as one PDF.
Include images for native documents when available – An image (if one exists) will be exported along with the native file of the selected documents.
Include text files – The text of the document will be exported to a separate file (.txt).

For more information, see Batch printing documents with default output settings and Performing mass actions.