In prior versions of DISCO, you would name your search and searches would be saved in chronological order. Now you can add groups and subgroups to organize your searches.
When you click Save Search, you will see the screen below. Name your search and then select a group or a subgroup as the location to save. A blue line to the left of the group name confirms which group you selected. If no group is selected, DISCO will place the search at the root of the Saved Search group in alphabetical order.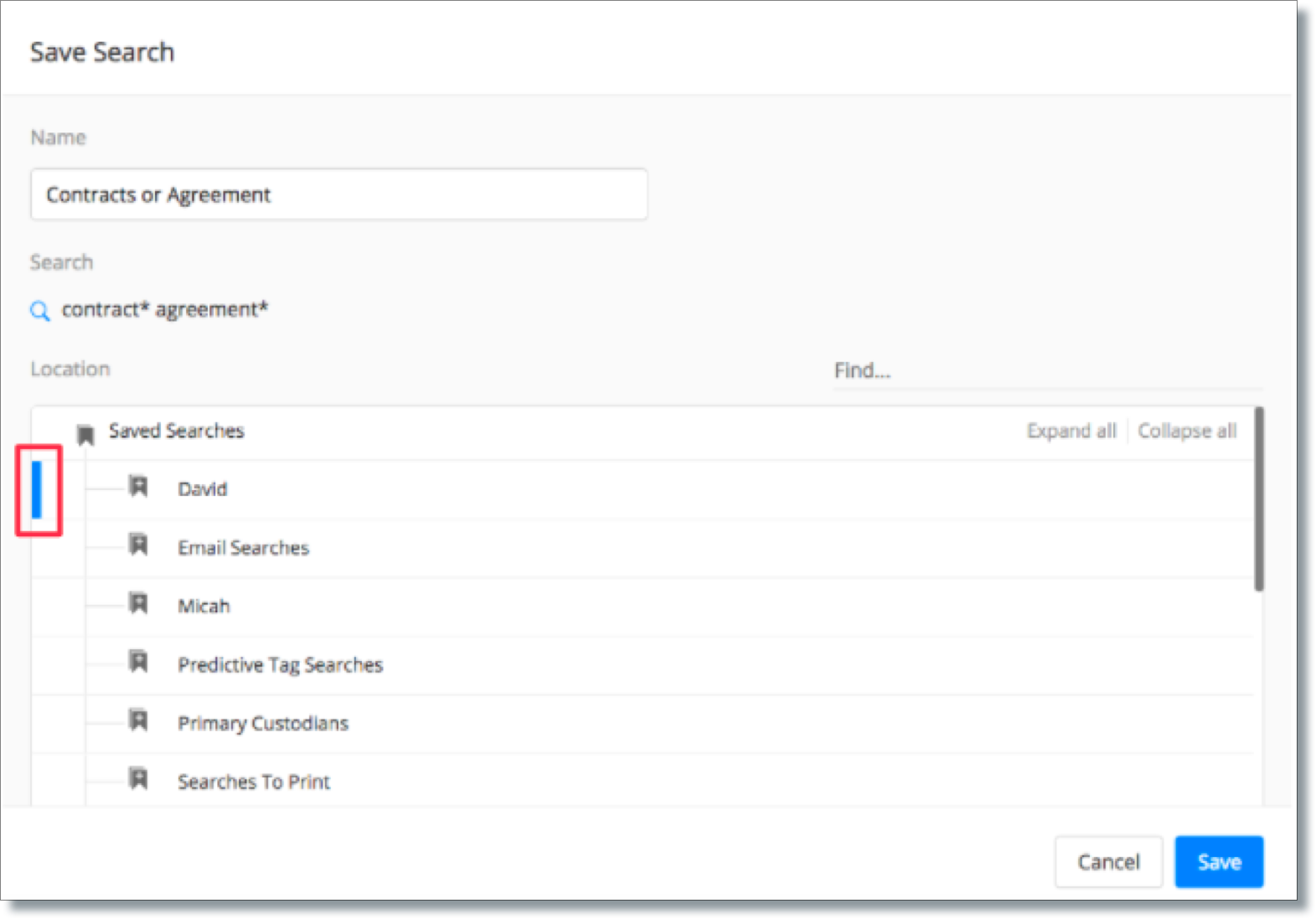 In addition to saving a search, DISCO gives you the option to replace existing searches. Run a search, click Saved Search, select an existing search, and then click Replace.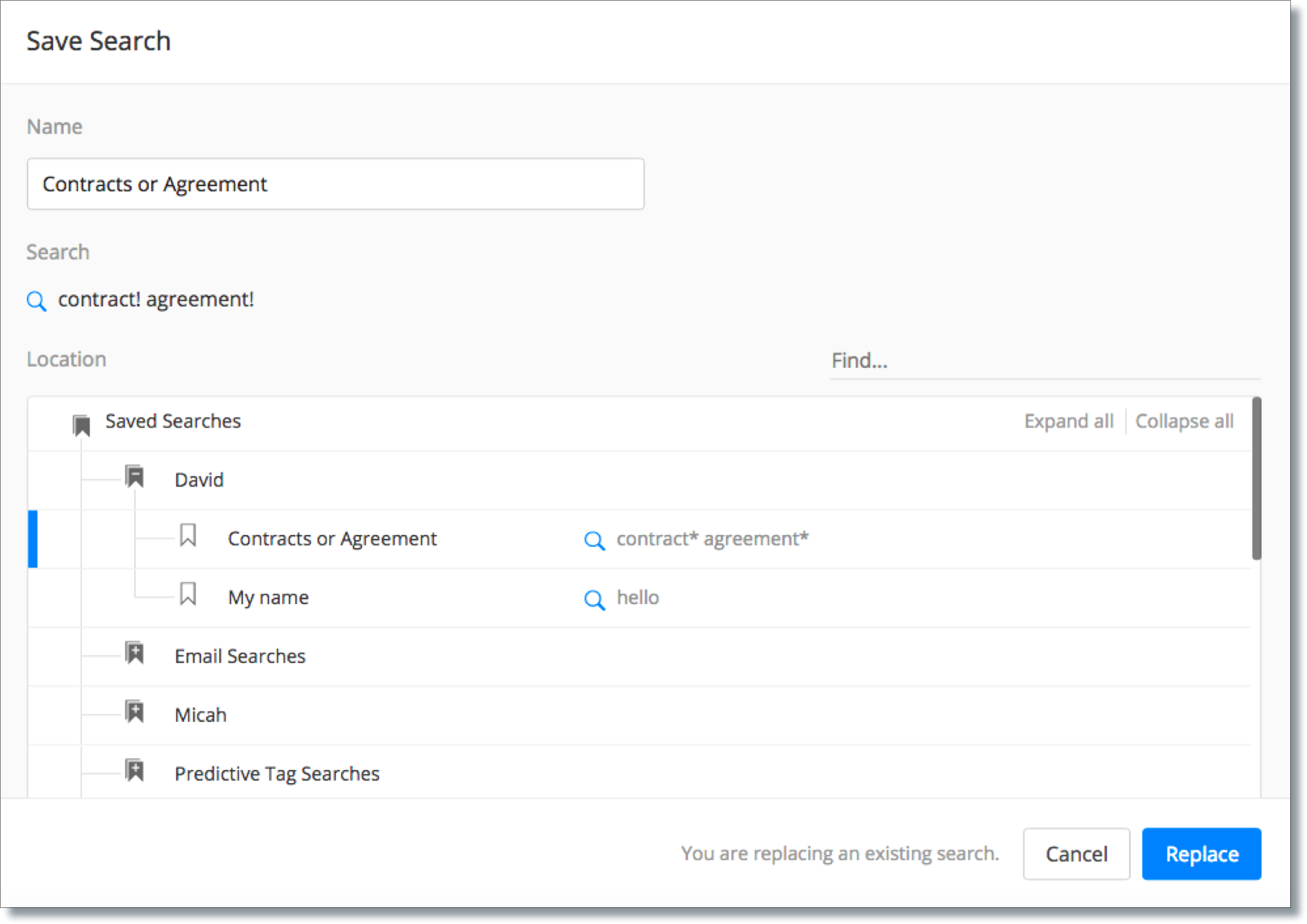 You can view your saved searches and all search groups at any time by clicking SAVED SEARCHES under the search bar.
To create custom groups or subgroups, hover over the saved searches group and then click + New Group. Name the new group and then click the check mark to add the group to the list. Hover over an existing group to access the option to add a subgroup.


Click Expand all to see all search groups, subgroups, and underlying saved searches, or Collapse all to see only top-level groups and ungrouped saved searches.
Instead of browsing for a saved search, you can also search for it. For example, if I am looking for a search that contains the term "Email", I would type Email in the Find… field and DISCO will return all search groups and/or saved searches that contain the word Email.

To see search details or modify the name of a search, hover over the search and you will be given the following options:
Edit the search name
See the hit count of documents
Move or delete the search

To the move the location of a saved search, click the three dots to the right of the document count. In the list of existing search groups, select the group you want to move the saved search to.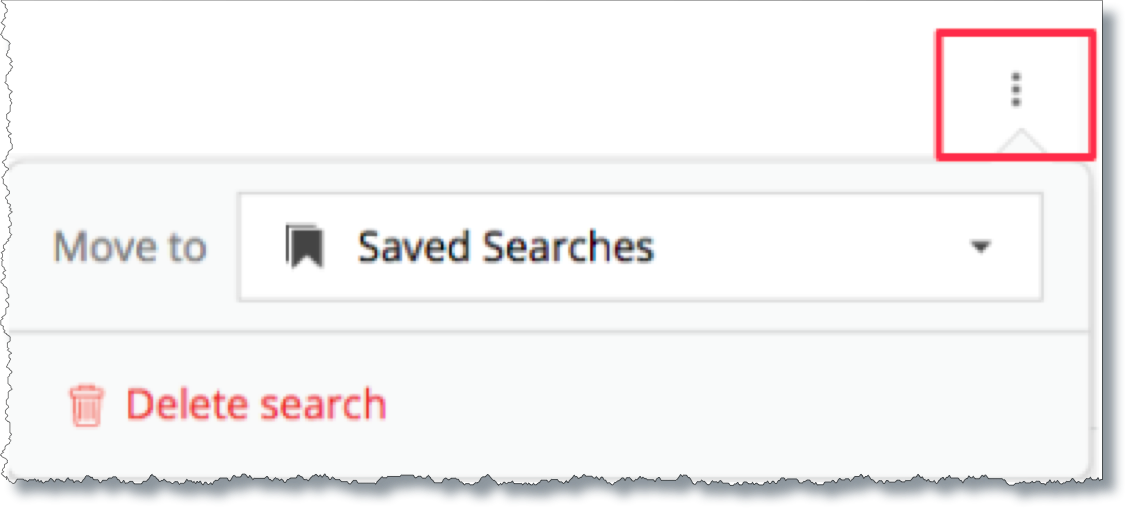 To run a saved search, click a search in the list and DISCO will rerun the search in the search bar. If you prefer to have the search syntax appear in the search bar, select the Insert saved searches using full search syntax rather than name check box.
Use search names to combine, exclude, or compare saved searches. The syntax will be the term "search" followed by the search name in quotes and parentheses:
search("SEARCH NAME") 
You can use and, or, and not to drive your complex queries.

Saved searches are shared with all users in the database. However, in order to protect against a saved search being changed by someone other than the user who created it, only that user and anyone assigned to the Admin role can delete, replace, or edit the name of a saved search.