Overview
Explore your data set, find specific date ranges, or even locate documents with a certain number of attachments — all without needing to know or use DISCO's search syntax. Search filters allow you to quickly search your documents, assess metadata with document counts, and understand your data with visual histograms. You can use filters before or after running a search to further refine the search results. Please see the search filters feature spotlight video for more information.
Navigating search filters
On the search results page, click the filter icon above the search results area to open the Filters panel. Categories & subcategories organize the individual facets. Facets are the collection of terms and document counts for an individual search attribute. You can quickly expand or collapse the categories for easy navigation. Alternatively, search for the name of a category or subcategory to quickly limit the filters panel.
If there are more than 5 facet terms, click Show all to display and scroll additional terms. You can also search for specific facet terms, such as PDF within Document Types. Additionally, you can sort the results by count descending, count ascending, A to Z, or Z to A. The default sort is count descending.
Searching for documents with filters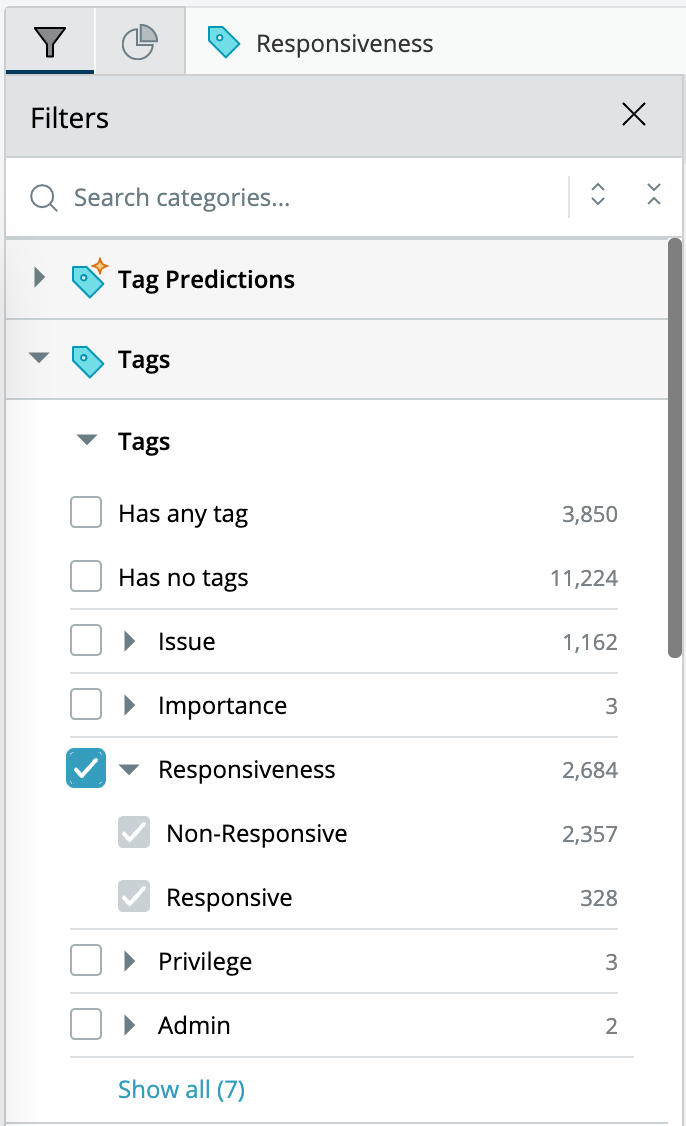 Selecting a term will return review documents matching the facet criteria. Selecting a term in one category or subcategory will update the counts displayed in other categories and subcategories. Selected terms are displayed in a pill under the search bar. Click Apply to search to promote the pill to the search bar; this will also update the counts in the originating facet.
Select a parent facet, such as a tag group, to quickly select all of the individual filters in that group. Selecting the Responsiveness tag group selects both the Non-Responsive and Responsive filters. You can also use shift-select to quickly select several filter terms.
Histograms help illustrate document distributions and they support data range searches:
| | | |
| --- | --- | --- |
| Specific range | Greater than a value | Less than a value |
| | | |
There are 3 primary interactions to search using a histogram:
| | | |
| --- | --- | --- |
| Drag thumbs | Select range | Enter thumb values |
| | | |
When there's an active histogram filter search, you can use the Add link to quickly add more histograms and further refine your search criteria.
Some facets, like Folders and Ingest Location, can contain both loose documents and folders. When a parent folder is collapsed and selected, the search will include all sub-folders. When a parent folder is expanded and selected, the search will not include sub-folders. The pill indicates included sub-folders with /!, as seen with Text Messages/!.
| | |
| --- | --- |
| Parent folder collapsed and selected | Parent folder expanded and selected |
| | |
Search filter pills
For each selected facet, a pill is created. You can hover over the pill to see the full contents, which is helpful for complex search criteria. You can also click the pill to remove any specific term, or simply remove the entire pill from your search criteria: