Sorting in DISCO
To sort your documents in DISCO, go to the Sort by dropdown list found above the Document List View.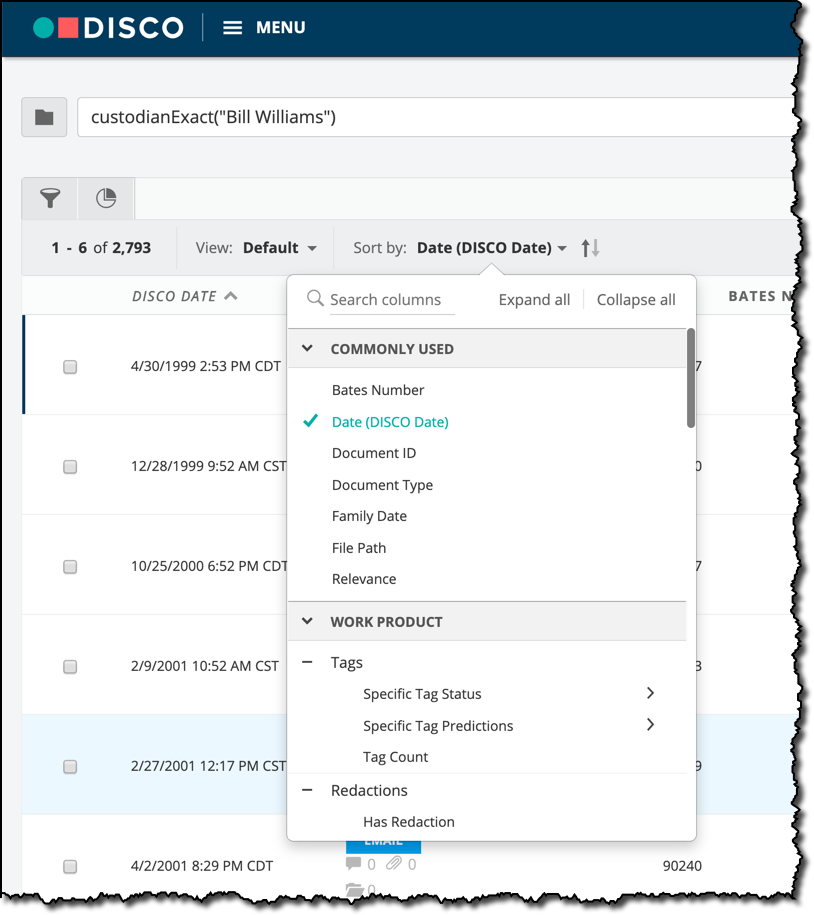 Relevance sorting is the "default" sort order returned in DISCO when any search is run in the search bar. Relevance sorts results according to their degree of responsiveness to a search. It's most commonly applicable to words or phrase searches, but applies to all DISCO searches. In this way, DISCO tries to give you the results that you want, and in the order that is most important. Web search engines, such as Google, perform something similar when you run a search.
In general, relevance sorting is based on an algorithm that creates a score created using the number of "hits" for any search term, and weighted according to the relative location of the hits.  For example, a document with five hits is more relevant than a document with a single hit.  Additionally, a hit in a subject field is accorded slightly more weight than a hit in the body. If the result of the algorithm is a "tie" then DISCO will sort the ties according to ID numbers.
Secondary sorting
DISCO also offers the ability to select a secondary sort option. After applying a sort, if you hover near the sort dropdown, you will see a "then by" option, which offers you dozens of attributes from which to select your secondary sort.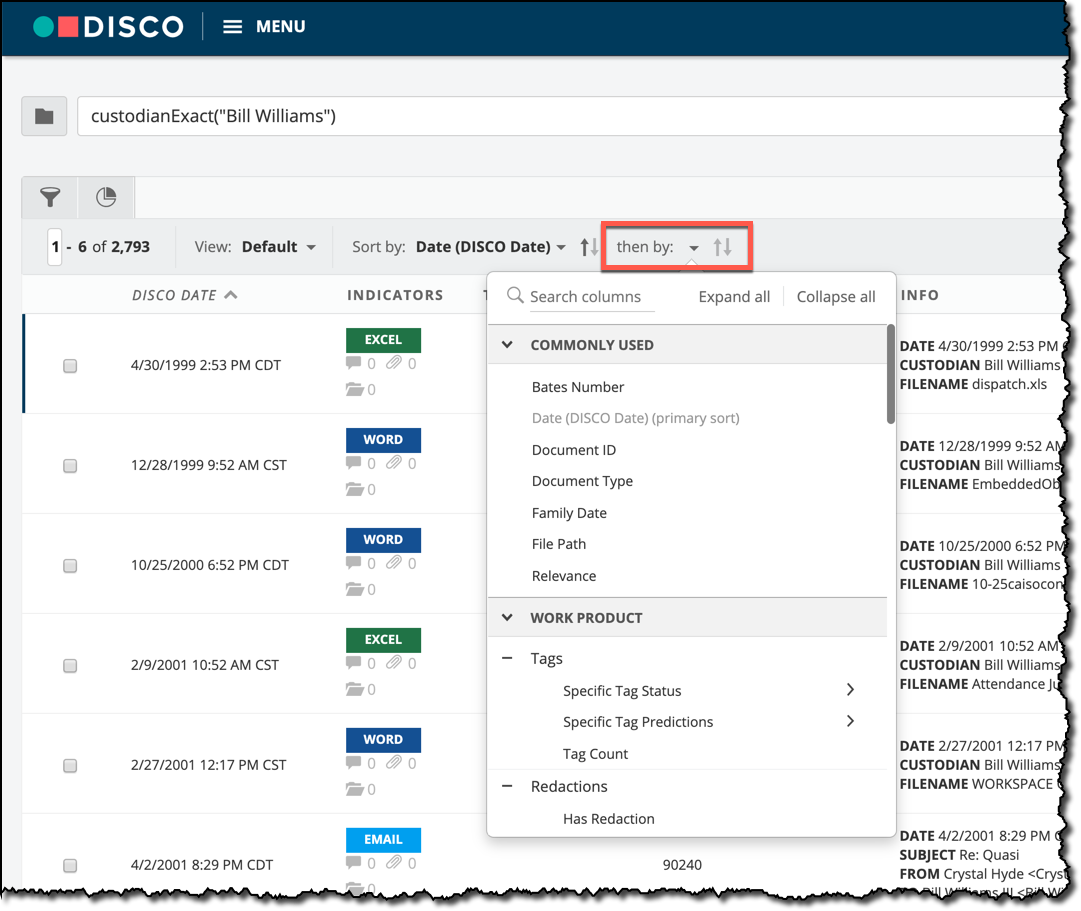 Primary sort options
Work Product
Tags
Specific Tag Status
Specific Tag Predictions
Tag Count
Redactions
Has Redaction
Has Redaction Reason
Has Redaction Without Reason
Folders
Folder Count
Notes
Has Document Note
Has Privilege Note
Productions
Bates Number
Specific Bates Prefix
Metadata                            
Custodian
Custodian
Dates*
Date (DISCO Date)
Conversation Date
Create Date
Family Date
Last Accessed Date
Last Modified Date
Last Printed Date
Received Date
Sent Date
File Info
Document Type
Billing Size
Filename
File Extension
Image Size
File Path
File Size
Page Count
Character Count
Author
Hidden Content
Has Hidden Content
Revisions
Hidden Sheets
Very Hidden Sheets
Comments
Speaker Notes
Identifiers 
Document ID
Reference ID
Email Specific
Subject
Related Documents  
Attachment Count
 
Conversation Count
 
Similar Count
 
Ingest  
Sessions
Processing Status
Ingest Type
Processing Info  
Processing Details
Has Image
Has Native
Has OCR
Has Search Text
Is Detected Email
Has Detected Slipsheet
Is Processed as Native
Has Wrong Extension
*For documents that come in without a date, the system populates a date of 12/31/9999.