DISCO's cross-matter AI allows you to build organization-wide AI models using the learnings from existing matters. Those models can then be leveraged in other matters within your organization.
Cross-matter AI is ideal for most customers, including:
Customers who frequently use the same types of tags across matters (such as junk, contracts, or privilege).

Customers who specialize in particular practice areas (such as labor law, health care, etc.).
Creating cross-matter AI models
Cross-matter AI models can be created and managed by clicking on the AI Models tab within Organization Manager. Only users with Organization Admin permission will have the ability to curate and manage cross-matter AI models.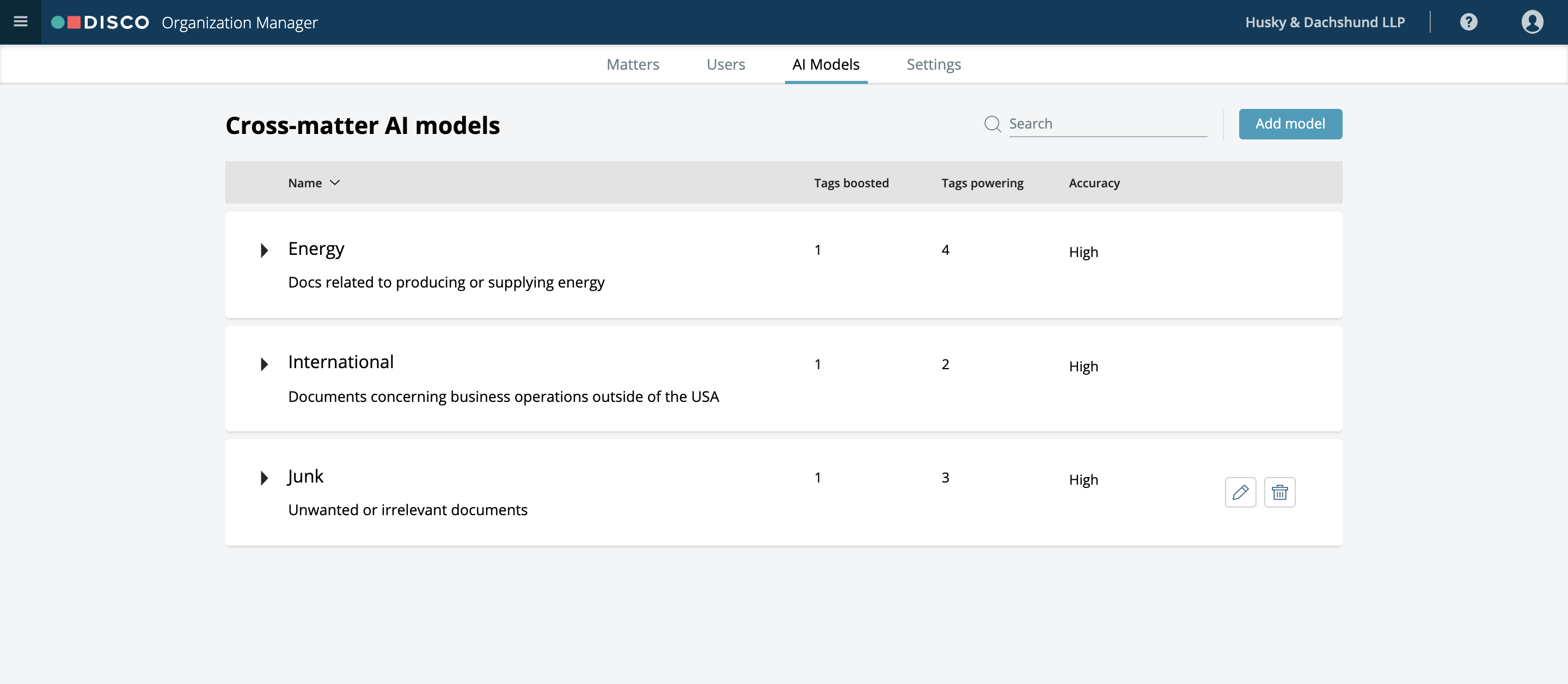 Follow the instructions below to create a cross-matter AI model:
In the

Organization Manager

, click the

AI Models

tab.

Click

Add model

.

Enter a

Name

and

Description

of the model.

The name and description help ensure that other users in your organization understand the meaning and purpose of each model.
To the right of Name and Description, you will see a list of all AI-enabled tags from your organization's matters. Select at least one tag from the list to "power" the model by checking the box beside the tag name.

A maximum of 100 tags can power a single cross-matter AI model.
You can search for a particular tag by using the search box at the top right of the list.

Only tags with AI-enabled within a review database will appear in this list. DISCO will use all previous decisions related to that tag even if DISCO AI was not previously enabled.

Click

Save

.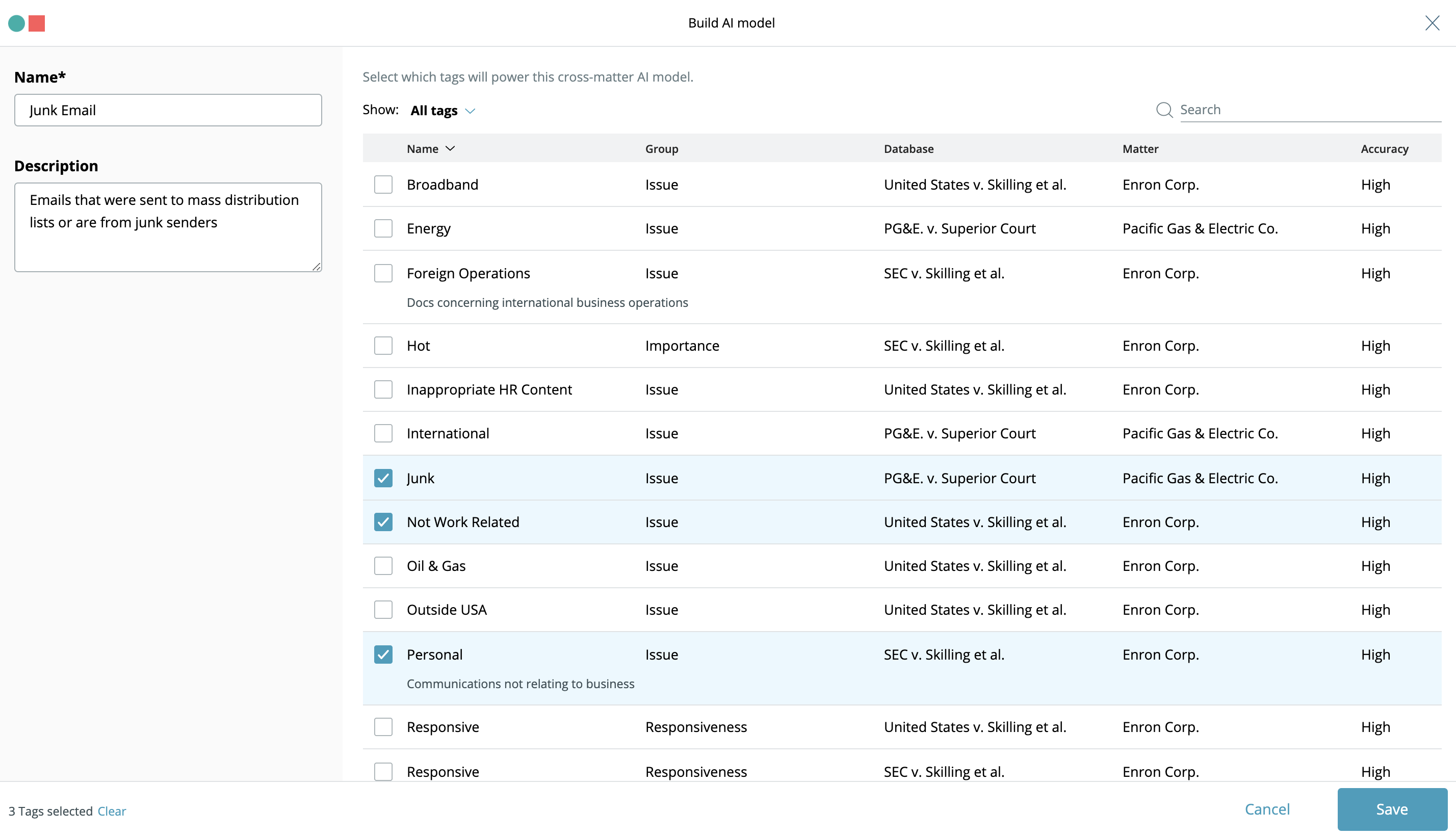 The new model appears in the list. DISCO will create a new cross-matter AI model from the tags you selected to power the model.
Managing existing models
Once a cross-matter AI model has been created for your organization, you will see it listed by clicking on AI Models in Organization Manager. The AI Models list displays the name and description for each model in your organization. Additionally, it provides a count of the tags boosted and tags powering each model, as well as an accuracy score that provides the performance of each model.
To see details for each model, click the expand icon. Each tag that is receiving additional tag signals from a cross-matter AI model is listed under Tags boosted. Each tag selected by the organization admin to power the model is listed under Tags powering.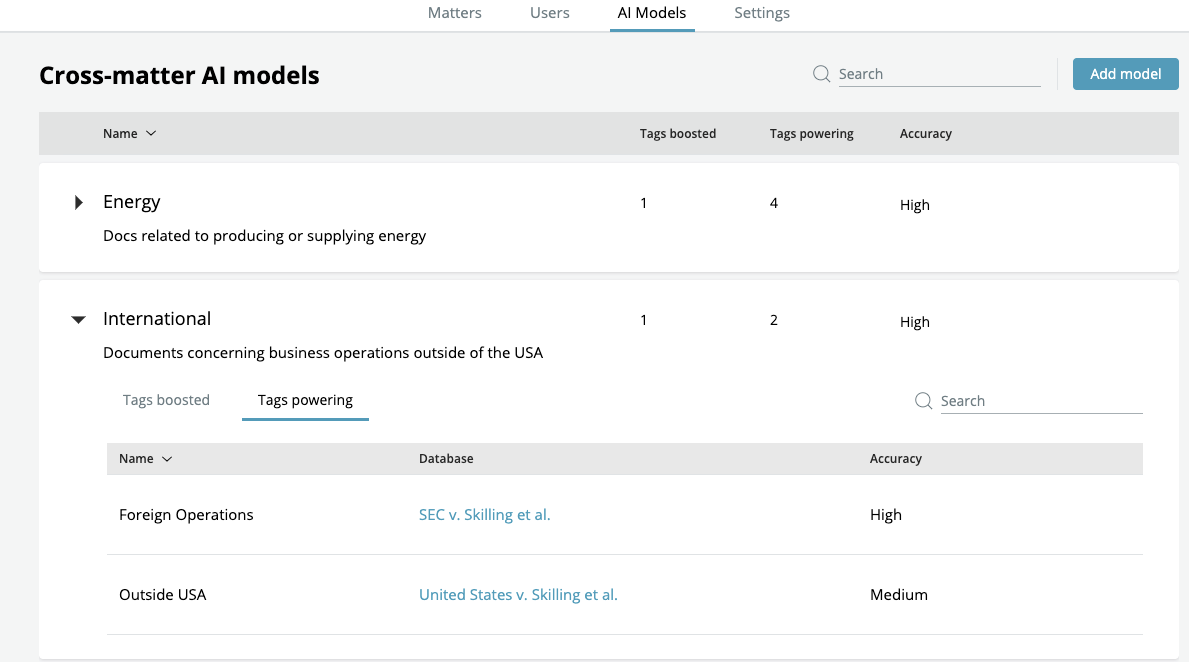 Tags boosted by a cross-matter AI model can also contribute to that model. If you want to have a tag in your review database power the cross-matter AI model, the Organization Admin can simply enable the Powering toggle in the Tag boosted list.

Accuracy
Accuracy uses the weighted precision of a cross-matter AI model to convey how well a model agrees with reviewers who are tagging documents that are using cross-matter predictions. DISCO shows values of high, medium, or low accuracy to indicate how often users agree with the tag predictions offered by the cross-matter AI model.
Low accuracy indicates that users agree with the model less than 50% of the time.
Medium accuracy indicates that users agree with the model 50% to 80% of the time.
High accuracy indicates that users agree with the model more than 80% of time.


Editing or deleting a cross-matter AI model
In the AI Models tab, hover over the model you want to edit and click the pencil icon to edit or the trashcan icon to delete. Clicking the edit pencil will allow you to add or remove tags to include in the model, using the same form that was used to create the model.
Clicking on the trashcan icon will prompt you to confirm that you want to delete the cross-matter AI model before proceeding. Once a cross-matter AI model is deleted, any boosted tags will use the AI model from the tag's review database only.


Boosting a tag from a DISCO Ediscovery database
Once AI models have been created by an Organization Admin, users will be able to use them to boost tags within their review databases. Boosting a tag imports all of the existing signals from previous matters to enrich tag predictions and decrease the amount of time it takes to receive accurate predictive scores.
To boost a tag for a predictive AI model follow the instructions below:
Navigate to

Menu

>

Setup

>

Tags

.

Click on the

Add Boost

link next to the AI Predictions toggle for a tag. Please note that AI Predictions must be enabled before you can apply a boost.

Select a cross-matter AI model. Tags may only be boosted by a single cross-matter AI model.

Click

Save

. Initially, you will see a status of "Boosting," letting you know that DISCO is calculating new predictive scores using the cross-matter AI model you have selected.

When an AI model is first applied it may take anywhere from a few minutes to a few hours depending on the n

umber of documents in the matter and the n

umber of signals in the model.

Once the boost is complete and scores have been updated, then the "Boosting" status will change to state "Boosted by: [model name]".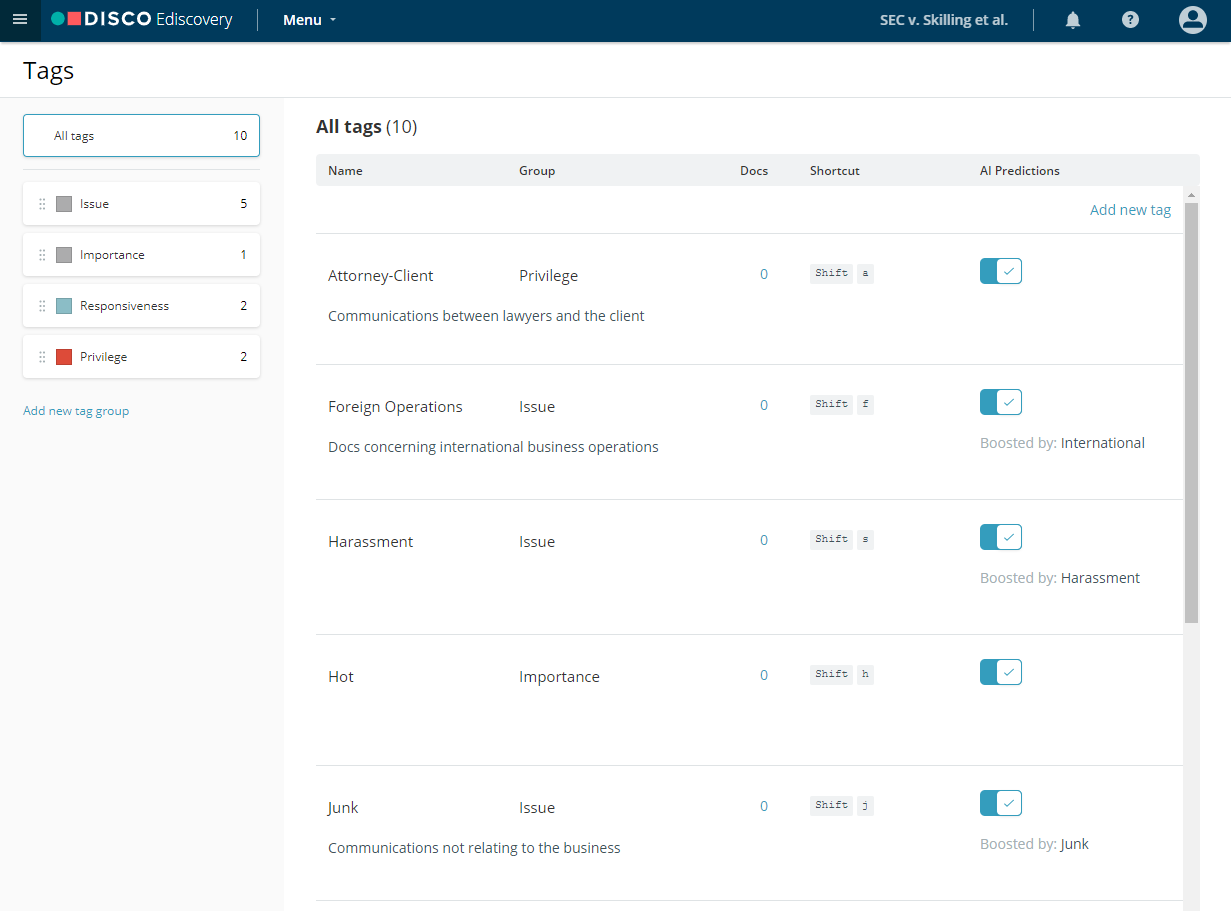 Listed below are the possible states of AI predictions for each tag in a review database:
| | |
| --- | --- |
| Tag with AI predictions enabled | |
| Tag with AI predictions disabled | |
| Tag with AI predictions enabled and boosted by a cross-matter AI model | |
| Tag that is in the process of having a cross- matter AI model applied (when a tag is first boosted, until scores are updated) | |
For more information on predictive tagging see the following articles: