DISCO Desk provides a simple, streamlined support experience led by a specialized team of on-demand ediscovery technologists who have been trained to help with all client needs, whether straightforward or complex.
DISCO Desk ensures that users are matched to a person with the specific expertise they need. With a single point of entry, DISCO clients can expect to be connected to the right resources without having to navigate a confusing help site, deciding which support line to call, or have frustrating "conversations" with chatbots. If you or your team needs help, give DISCO Desk a try today.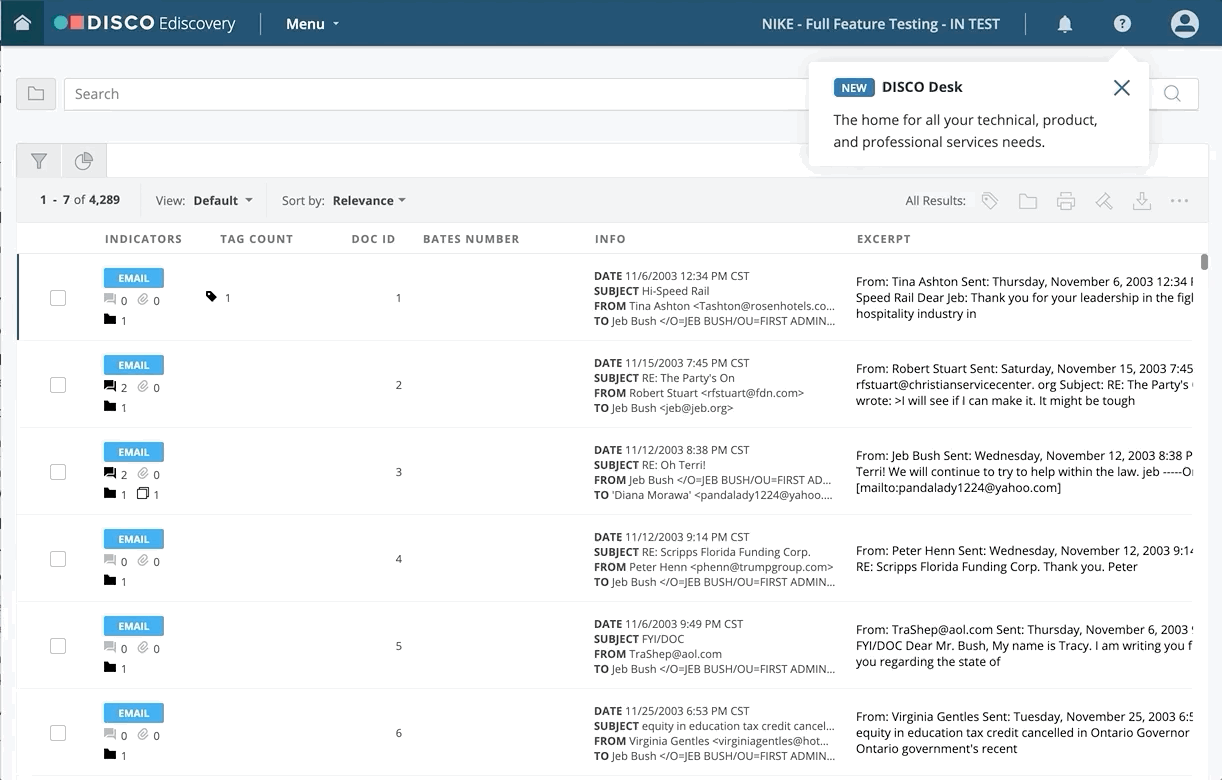 The DISCO Desk team helps in broad areas of software and services support; here is a sampling of the DISCO Magic you'll experience with a click of a button:
Technical issues and troubleshooting: No need to leave the platform if you get stuck or need to report a problem. Just answer a few questions via DISCO Desk and we'll get back to you ASAP.

Product feature support and training: DISCO Desk is here to answer your product questions, share our best practices, and point you to the most relevant and helpful training resources based on your questions.

Workflow questions: Unsure if you have set up your search terms correctly or if you just want us to make sure that it's optimally configured? No problem, DISCO Desk is happy to be a second pair of eyes.

Billing inquiries: We are as transparent as possible when it comes to invoices, but DISCO Desk is available if you have any questions or need further clarification.

Product feedback and feature requests: Our platform only gets better with your feedback, so we make it as easy as possible for you to share your thoughts, in real-time as you're working on our platform.

On-demand professional services: Our experts are ready to tackle a single task or manage the entire discovery process from start to finish.

Forensic collection and preservation

Data operations

Custom data solutions

Project management

Workflow guidance and management

Managed review services

Consulting requests
Product Behavior
Walkthrough
Step by step use of the product feature with written instructions:
Sign into DISCO ediscovery

NOTE: Disco Desk is not supported on Case Builder

Click on a matter or remain on the Orgs landing page with the list of matters

Click on the Question Mark ("?") in the main menu

NOTE: DISCO Desk is only available to non-channel partners

DISCO Desk will open on the main landing page. User must make a decision:

Knowledge Base

Click on the link, the DISCO eDiscovery Knowledge Base opens in a new browser tab

Contact Support

Select Support need from dropdown

Select Product (optional)

Enter description (optional)

Click Submit

DISCO will respond to inquiry via email

Professional Services

Select Professional Services need from dropdown

Includes Data Operations, Forensics, and more.

Enter description (optional)

Click Submit

DISCO will respond to inquiry via email

Hire Reviewers

Enter phone number or email address to request Managed Review services

Click Submit

DISCO will respond to inquiry via requested medium (phone or email)

Call

Click Call, dial from mobile phone or take number down on a computer

Chat

Click Chat, new window opens with DISCO Chat

User must enter First Name, Last Name, and Email to start chat

Exit DISCO Desk
Access Permissions
Available to all North American and EMEA ediscovery matters that have Pendo enabled. Case Builder is currently not enabled for in-app DISCO Desk support.
Known Limitations
Any known limits or restrictions to usability.
User details for Chat. Our DISCO Desk Chat requires users to re-enter their name and email address to start a chat during open hours.

Unable to post Hours of Operation. We cannot enable and disable DISCO Desk or any of the internal components based on hours in the day and the "open" hours for DISCO Desk. The feature is enabled 24/7 even though support may not be available 24/7.

Legacy Support Flows. Existing support flows do not interact with the DISCO Desk product feature, however these support flows will still lead users to the DISCO Desk organization. All support requests are now facilitated by the DISCO Desk team.

Ad Blockers Cause Issues. DISCO Desk may experience limitations with Ad Blockers as a browser extension. Users must disable Ad Blockers to be able to use DISCO Desk.
Known issues exist with the following Ad Blockers:

Ad Block Plus

EFF Privacy Badger