These instructions apply to databases that have the organization manager feature in crawl or walk. If you are a review admin, go here. If you are an organization admin, go here.
The My Matters page
After you log in to DISCO, you will be directed to the My Matters page. This page shows all of the review databases that you have been added to. 

You can search for databases using the search bar at the top.
If a database is missing, it may not have been migrated to the new DISCO structure. Click Go to my legacy matters to see these databases.
Each database in the My Matters page has a card with the following information:

List of databases (can be expanded and collapsed by selecting Show details and Hide details)
Matter name
Jump to the Review app
Matter menu
What's the difference between a matter and a database?
Organizations, matters, review databases, and users exist in a hierarchical relationship in DISCO. An organization is usually a law firm, business, or nonprofit establishment. A matter is a case, lawsuit, grievance, or other interest that concerns the organization. Each matter has one or more review databases in DISCO, which contain the documents that need to be reviewed in order to resolve the matter.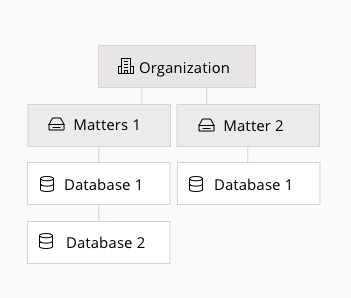 Navigating a review database
To navigate to a review database, go to your My Matters page by selecting the home icon, then expand the matter card by clicking Show details. You'll see how many review databases there are (1), the ID number (2), the button to press to review the database (3), and the button that will open all other options (4).
If you have permission to view the search page, you will be navigated to that page by default. From there, you can:
If you do not have access to the search page, navigating to the review database will direct you to a list of review stages and/or other locations you have permission to view:

You can navigate to other pages in the review database by selecting an option in the main menu. 
Entering the review workflow
To start a review stage, you'll need to check out a batch. If you see a list of review stages when you navigate to the database, click a stage to check out a batch. If you see the search page when you navigate to the database, expand Check Out Batches in the main menu and click the appropriate stage. 
Once you're on the review stage page, you can check out a batch, review documents in a checked-out batch, or check in a batch.

If you aren't sure what stage you are in, ask your review manager.